Effort to prevent Bombardier hibernation
9th October 1982
Page 13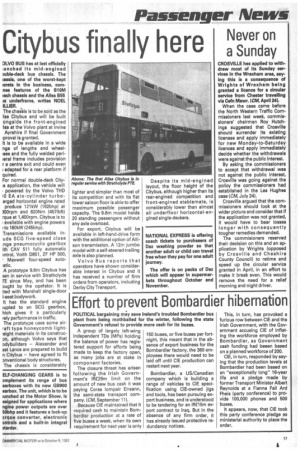 Page 13, 9th October 1982 —
Effort to prevent Bombardier hibernation
Close
POLITICAL bargaining my save Ireland's troubled Bombardier bus plant from being mothballed for the winter, following the state Government's refusal to provide more cash for its buses.
A group of largely left-wing independent TDs (MPs) holding the balance of power has registered support for efforts being made to keep the factory open, as many jobs are at stake in component factories.
The closure threat has arisen following the Irish Government's 1R£29m limit on the amount of new bus cash it was paying Cores lompair Eireann, the semi-state transport company. (CM, September 11).
Because CIE maintained that it required cash to maintain Bombardier production at a rate of five buses a week, when its own requirement for next year is only 150 buses, or five buses per fortnight, this meant that in the absence of export business for the Bombardier factory, the 360 employees there would need to be laid off until CIE production can restart next year.
Bombardier, a US/Canadian company which is building a range of vehicles to CIE specification using CIE-owned jigs and tools, has been pursuing export business, and is understood to be tendering for an 1R£15m export contract to Iraq. But in the absence of any firm order, it has already issued protective redundancy notices. This, in turn, has provoked a furious row between CIE and the Irish Government, with the Government accusing CIE of inflating the workforce employed by Bombardier, as Government cash funding had beeen based on a planned workforce of 200.
CIE, in turn, responded by saying that the production levels at Bombardier had been based on an "exceptionally long" 16-year life and a pledge made by former Transport Minister Albert Reynolds at a Fianna Fail Ard Fheis (party conference) to provide 100,000 phones and 500 buses.
It appears, now, that CIE took this party conference pledge as ministerial authority to place the order,