STOLEN TRACTORS WERE SOLD IN MIDDLE EAST
9th July 1976
Page 21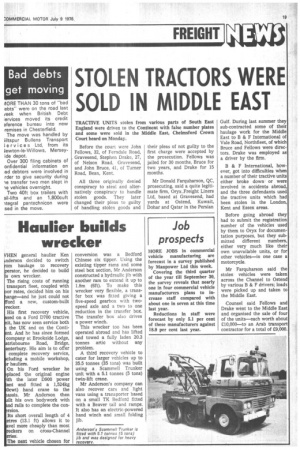 Page 21, 9th July 1976 —
STOLEN TRACTORS WERE SOLD IN MIDDLE EAST
Close
TRACTIVE UNITS stolen from various parts of South East England were driven to the Continent with false number plates and some were sold in the Middle East, Chelmsford Crown Court heard on Monday.
Before the court were John Fellows, 32, of Ferndale Road, Gravesend, Stephen Drake, 27, of Nelson Road, Gravesend, and John Bruce, 41, of Turner Road, Bean, Kent.
All three originally denied conspiracy to steal and alternatively conspiracy to handle stolen goods. They later changed their pleas to guilty of handling stolen goods and their pleas of not guilty to the first charge were accepted by the prosecution. Fellows was jailed for 30 months, Bruce for two years, and Drake for 15 months.
Mr Donald Farquharson, QC, prosecuting, said a quite legitimate firm, Oryx .Freight Liners Ltd, based at Gravesend, had yards at Ostend, Kuwait, Dohar and Qatar in the Persian Gulf. During last summer they sub-contracted some of their haulage work for the Middle East to B & F International of Vale Road, Northfleet, of which Bruce and Fellows were directors. Drake was employed as a driver by the firm.
B & F International, however, got into difficulties when a number of their tractive units either broke down or were involved in accidents abroad, and the three defendants used the tractive units which had been stolen in the London, Kent and Essex areas.
Before going abroad they had to submit the registration number of the vehicles used by them to Oryx for documentation purposes, but they submitted different numbers, either very much like their own unavailable units, or for other vehicles—in one case a motorcycle.
Mr Farquharson said the stolen vehicles were taken across the Channel to Ostend by various B & F drivers; loads were picked up and taken to the Middle East.
Counsel said Fellows and Drake went to the Middle East and organised the sale of four of the units—each worth about £10,000—to an Arab transport contractor for a total of 0,000.