3ECAUSE he was satisfied hat Henry Peacock Ltd, ;tockton-on-Tees, had
9th July 1976
Page 19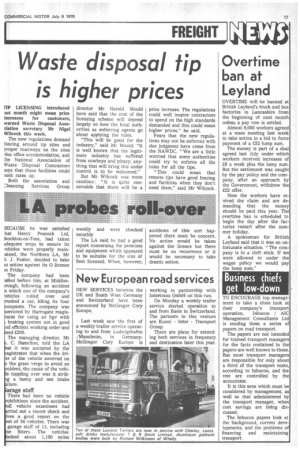 Page 19, 9th July 1976 —
3ECAUSE he was satisfied hat Henry Peacock Ltd, ;tockton-on-Tees, had
Close
taken idequate steps to ensure its rehioles were properly mainained, the Northern LA, Mr 3. J. Foster, decided to take ro action against its 0 licence on Friday.
The company had been :filled before him, at Middlesrough, following an accident n which one of the company's rehitles rolled over and Tushed a car, klling its four upants. The company was nvicted by Harrogate magisrates for using an hgv with braking system not in good d efficient working order and ned £200.
The managing director, Mr . C. Hamilton, told the LA at it was accepted by the agistrates that when the drier of the vehicle swerved on • the grass verge to avoid an ccident, the cause of the vehile toppling over was it strikg a bump and not brake ilure.
arage staff
There had been no vehicle ohibitions since the accident, oE vehicle examiners had rried out a recent theck and iven a good report on the eet of 34 vehicles. There was garage staff of 11, including ne fitters. The vehicles ocked about 1,100 miles weekly and were checked monthly The LA said he had a good report concerning the premises and equipment which appeared to be suitable for the size of fleet licensed. When, however, accidents of this sort happened there must be concern. No action would be taken against the licence but there must be no recurrence or it would be necessary to take drastic action.