The Ideal Mobile Cinema
9th February 1951
Page 53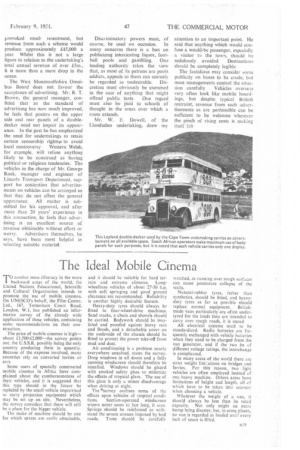 Page 53, 9th February 1951 —
The Ideal Mobile Cinema
Close
Keywords :
Transport
,
Land Transport
,
Private Transport
,
Car Safety
,
Mot Test
,
Motoring Taxation In The United Kingdom
,
Windscreen Wiper
,
Recreational Vehicle
,
Van
,
Vehicle
,
Hospitality / Recreation
TO combat mass illiteracy in the more backward areas of the world, the United Nations Educational, Scientific and Cultural Organization intends to promote the use of mobile cinemas. On UNESCO's behalf, the Film Centre. Ltd., 167, Tottenham Court Road, London, W.I, has published an informative survey of the already wide application of these vehicles, containing some recommendations on their construction.
The price of mobile cinemas is high— about /1,500-£2,000—the survey points out, the U.S.S.R. possibly being the only country producing them in quantity. Because of the expense involved, many countries rely on converted lorries or ears
Some users of specially constructed mobile cinemas in Africa have complained about the cumbersomeness of their vehicles, and it is suggested that this type should in the future be replaced by the small vehicle improvised to carry projection equipment which may be set up on site. Nevertheless, the survey considers that there will still be a place for the bigger vehicle.
The make of machine should be one for which sps.res are easily obtainable,
and it should be suitable for hard terrain and extreme climates. Longwheelbase vehicles of about 27-30 h.p. with soft springing and good ground clearance are recommended. Reliability is another highly desirable feature.
Heavy-duty tyres should always be fitted to four-wheel-drive machines. Sand tracks, a chain and shovels should be carded. Bodywork should be insulated and proofed against heavy rain and floods, and a detachable cover on the underside of the chassis should be fitted to protect the power take-off from mud and dust.
Air conditioning is a problem nearly everywhere unsolved, states the survey. Drop windows in all doors and a fully opening windscreen should therefore be installed, Windows should be glazed with smoked safety glass to minimize, the effects of tropical glare. The use of this glass is only a minor disadvantage when driving at night.
The surveyoutlines some of the effects upon vehicles of tropical conditions. Suction-operated windscreen wipers never seem to last long, it says. Springs should be reinforced to withstand the severe stresses imposed by bad roads. Tyres should be carefully
watched, as running over rough surfaces can cause premature collapse of the walls,
Natural-rubber tyres, rather than synthetics, should be fitted, and heavyduty tyrcs as far as possible should replace normal equipment. Britishmade vans particularly are often undertyred for the loads they arc intended to carry over rough roads, it is stated All electrical systems need to be standardized. Radio batteries ,are frequently exchanged with vehicle batteries when they need to be charged from the van generator, and if the two be of different voltage ratings, the interchange is complicated.
In many areas of the world there are strict weight litni'Ations on bridges and ferries. For this reason, two light vehicles are often employed instead of one heavy machine. Others areas have limitations of height and length, all of which have to be taken into account when choosing a vehicle.
Whatever the weight of a van, it should always be less than its rated capacity. Not only might an extra bump bring disaster, but, in some places, no van is regarded as loaded until every inch of space is filled.