Is Advertising on Buses Desirable?
9th February 1951
Page 50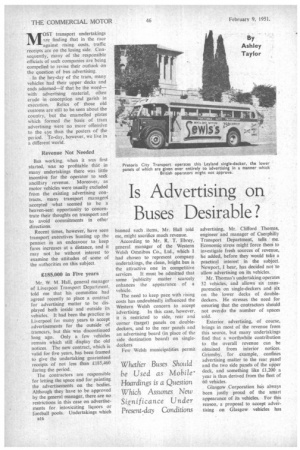 Page 53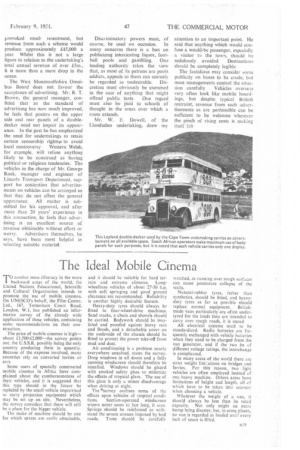 Page 50, 9th February 1951 —
Is Advertising on Buses Desirable?
Close
MOST transport undertakings are finding that in the race against rising costs, traffic receipts are on the losing side. Consequently, many of the responsible officials of such companies are being compelled to revise their outlook on the question of bus advertising.
In the hey-day of the tram, many vehicles had their upper decks and ends adorned—if that be the word— with advertising material, often crude in conception and garish in execution. Relics of those old customs are stilt to be seen about the country, but the enamelled plates which formed the basis of tram advertising were no more offensive to the eye than the posters of the period. ' To-day, however, we live in a different world.
Revenue Not Needed
Bus working, when it was first started, was so profitable that in many undertakings there was little incentive for the operator to seek ancillary revenue. Moreover, as motor vehicles were usually excluded from the existing advertising contracts, many transport manager4 accepted what seemed to be a heaven-sent opportunity to concentrate their thoughts on transport and to avoid commitments in other directions.
Recent times, however, have seen transport executives hunting up the pennies in an endeavour to keep fares increases at a distance, and it may not be without interest to examine the attitudes of some of the authorities on this subject.
£185,000 in Five years
Mr. W. M. Hall, general manager of Live' pool Transport Department. told me that his committee had agreed recently to place a contract for advertising matter to be displayed both inside and outside its vehicles. It had been the practice in Liverpool foi many years to accept advertisements for the outside of tramcars, but this was discontinued long ago. Only a few vehicles remain which still display the old notices. The new contract, which is valid for five years, has been framed to give the undertaking guaranteed receipts of not less than £185,460 zluring the period.
The contractors are responsible for letting the space and for painting the advertisements on the bodies. Although they have to be approved by the general manager, there are no restrictions in this case on advertisements for intoxicating liquors or football pools. Undertakings which banned such items, Mr. Hall told me, might sacrifice much revenue.
According to Mr. R. T. Ebrey, general manager of the Western Welsh Omnibus Co., Ltd., which I had chosen to represent company undertakings, the clean, bright bus is the attractive one in competitive
services It must be admitted that some 'publicity matter scarcely enhances the appearance of a vehicle.
The need to keep pace with rising costs has undoubtedly influenced the Western Welsh concern to accept advertising. In this case, however, it is restricted to side, rear and corner (target) panels on doubledeckers, and to the rear panels and an advertising board (in place of the side destination board) on singledeckers Few Welsh municipalities permit
advertising, Mr. Clifford Thomas, engineer and manager of Caerphilly Transport Department, tells me. Economic stress might force them to investigate fresh sources of revenue, he added, before they would take a practical interest in the subject. Newport, I hear, has decided not to allow advertising on its vehicles.
Mr. Thomas's undertaking operates 32 vehicles, and allows six transparencies on single-deckers and six on the lower decks of doubledeckers. He stresses the need for ensuring that the contractors should not ()veld° the number of spaces sold.
Exterior advertising, of course, brings in most of the revenue from this source, but many undertakings find that a worthwhile contribution to the overall revenue can be obtained from interior notices. Grimsby, for example, confines advertising matter to the rear panel and the two side panels of the upper deck, and something like £1,200 a year is thus derived from the fleet of 60 vehicles.
Glasgow Corporation has always been justly proud of the smart appearance of its vehicles. For this reason,a proposal to accept advertising on Glasgow vehicles has
provoked much resentment, but revenue from such a scheme would produce approximately £45,000 a year Whilst this is not a large figure in relation to the undertaking's total annual revenue of over L5m., it is more than a mere drop in the ocean
The West Monmouthshire Omnibus Board does not favour the acceptance of advertising. Mr. R. T. Brown, the general manager, confided that as the standard of advertising has now much improved, he feels that posters on the upper side and rear panels of a doubledecker need not impair its appearance. In the past he has emphasized the need for undertakings to retain certain censorship rights to avoid
local controversy. Western Welsh, for example, will refuse anything likely to be construed as having political or religious tendencies. The vehicles in the charge of Mr. George Rock, manager and engineer of Lincoln Transport Department, support his contention that advertisements on -vehicles can be arranged so that they do not affect the general appaarance. All matter is submitted for his approval, and after more than 20 years' experience in this connection, he feels that advertising is an excellent source of revenue obtainable without effort or worry. Advertisers themselves, he says, have been most helpful in selecilma suitable materiat. Discriminatory powers must, of course, be used on occasion. In many concerns there is a ban on publicizing intoxicating liquor, football pools and gambling. One leading authority takes the view that, as most of its patrons are pools addicts, appeals to them can scarcely be regarded as undesirable. Discretion must obviously be exercised in the case of anything that might offend public taste. Due regard must also be paid to schools of thought in the areas over which a route extends.
Mr. W. E. Dowell, of the Llandudno undertaking, drew my attention to an important point. He said that anything which would confuse a would-be passenger, especially a visitor to the town, should be sedulously avoided. Destinations should be completely legible The fastidious may consider some publicity on buses to be crude, but most managements control the situation carefully. Vehicles overseas very often look like mobile hoardings, but despite typical British restraint, revenue from such advertisements as are perenissible can be sufficient to be welcome wherever the pinch of rising costs is making itself felt