Ae Dee Ad/
9th February 1951
Page 46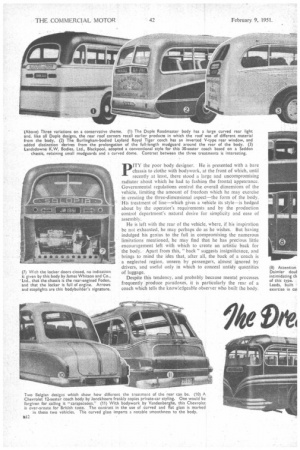 Page 47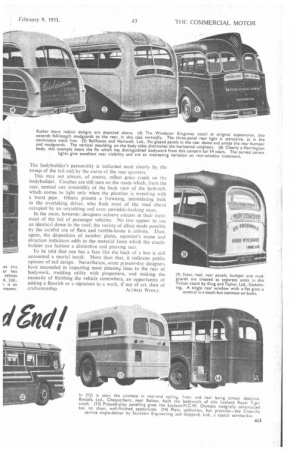 Page 46, 9th February 1951 —
Ae Dee Ad/
Close
pITY the poor body designer. He is presented with a bare chassis to clothe with bodywork, at the front of which, until recently at least, there stood a large and uncompromising radiator about which he had to fashion the frontal appearance. Governmental regulations control the overall dimensions of the vehicle, limiting the amount of freedom which he may exercise in creating the three-dimensional aspect—the form of the body. His treatment of line—which gives a vehicle its style—is hedged about by the operator's requirements and by the production control department's natural desire for simplicity and ease of assembly.
He is left with the rear of the vehicle, where, if his inspiration be not exhausted, he may perhaps do as he wishes. But having indulged his genius to the full in compromising the numerous limiiations mentioned, he may find that he has precious little encouragement left with which to create an artiStic back for the body. Apart from this, "back " suggests insignificance, and brings to mind the idea that, after all, the back of a coach is a neglected region, unseen by passengers, almost ignored by drivers, and useful only in which to conceal untidy quantities of luggage.
Despite this tendency, and probably because mental processes frequently produce paradoxes, it is particularly the rear of a coach which tells the knowledgeable observer who built the body. The bodybuilder's personality is indicated most clearly by the sweep of the tail and by the curve of the rear quarters.
This may not always, of course, reflect great credit on tly.,! bodybuilder. Coaches are still seen on the roads which, from the rear, remind one irresistibly of the back view of the bath-tub. which comes to light only when the plumber is wrestling with a burst pipe. Others present a frowning, intimidating bulk to the overtaking driver, who finds most of the road ahead occupied by an unyielding and even unwieldy-looking mass.
In the main, however, designers achieve success in their treatment of the tail of passenger vehicles. No two appear to use an identical dome to the roof; the variety of effect made possible by the careful use of flare and tumble-home is infinite. Then, again, the disposition of number plates, operator's name and direction indicators adds to the material from which the coachbuilder can fashion a distinctive and pleasing rear.
To be told that one has a face like the back of a bus is still accounted a mortal insult. More than that, it indicates public opinion of tail design. Nevertheess, some present-day designers have succeeded in imparting most pleasing lines to the rear of bodywork, wedding utility with proportion, and making the necessity of finishing the vehicle somewhere, an opportunity of adding a flourish or a signature to a work, if not of art, then of
craftsmanship. ALFRED W001 F.