R.H.E. SAYS IT WITH PICTURES
9th February 1951
Page 39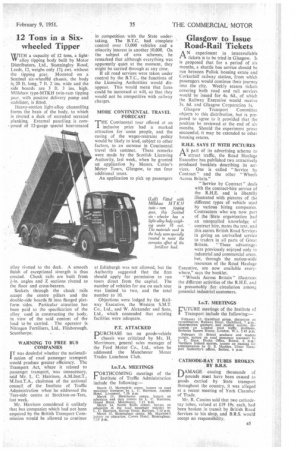 Page 39, 9th February 1951 —
R.H.E. SAYS IT WITH PICTURES
Close
A'part of its advertising scheme to attract traffic, the Road Haulage Executive has published two attractively produced booklets describing its services, One is called "Service by Contract" and the other "Wheels Across Britain,"
"Service by Contract" deals with the contract-hire service of the R.H.E. and is liberally illustrated with pictures of the different types of vehicle used by various hiring companies. Contractors who are now part of the State organization had an unequalled knowledge of contract hire. States the text, and this assists British Road Services in giving an unrivalled service to traders in all parts of Great Britain. "These advantages were previously enjoyed only in industrial and commercial areas, but, through the nation-wide resources of the Road Haulage Executive, are now available everywhere," says the booklet.
"Wheels Across Britain " illustrates the different activities of the R.H.E. and is presumably for circulation among potential industrial customers.