Red and White Losing £100 a Day : Higher School Bus Rates?
9th February 1951
Page 37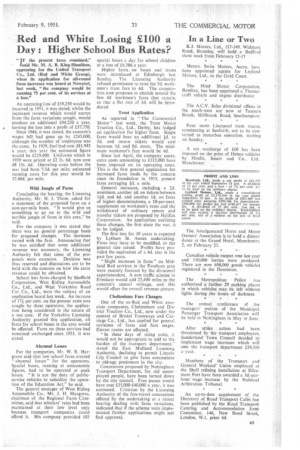 Page 37, 9th February 1951 —
Red and White Losing £100 a Day : Higher School Bus Rates?
Close
" IF the present fares remained,"
Isaid Mr. M. A. B. King-Hamilton, appearing for the United Transport Co., Ltd. (Red and White Group), when its application for all-round fares increases was heard at Newport, last week, "the company would be running 75 per cent, of its services at a loss."
An operating loss of £39,250 would be incurred in 1951, it was stated, whilst the increased revenue which would accrue from the fares variations sought, would produce an additional £94,250 a year, • turning the loss into a profit of £57,750.
Since 1946, it was stated, the concern's wages bill had gone up by £245,000, although the number of employees was the same. In 1939. fuel had cost £81.943 a year; this year the estimated figure would be £219,400. Uniforms which in 1939 were priced at £2 2s. 6d. now cost ER I3s. 4d. Operating costs before the war had been 7.5d. per mile; estimated running costs for this year would be 17.68d. per mile.
Wild Jungle of Fares Concluding the hearing, the Licensing Authority, Mr. H. J. Thom, asked for a statement of the proposed fares on a cost-per-mile basis. "It would give us something to go on in the wild and terrible jungle of fares in this area," he said.
For the company it was stated that there was no general percentage basis for proposed changes. The increases varied with the fare. Announcing that he was satisfied that some additional revenue was necessary, the Licensing Authority felt that some of the proposals were excessive. Decision was thus reserved and discussions are to be held with the concern on how the extra revenue could be obtained.
School bus fares charged by Sheffield Corporation, West Riding Automobile Co., Ltd., and West Yorkshire Road Car Co., Ltd., were the subject of an application heard last week. An increase of 17iper cent, on the present rates was sought by these operators, the application being considered in the nature of a test case. If the Yorkshire Licensing Authority granted this application, alT fares for school buses in the area would be affected. Fares on these services had remained unchanged since 1933, it was stated.
Abysmal Losses For the companies, Mr. W. R. Hargrave said that low school fares created "abysmal losses" for the operators. Special buses, running at uneconomic figures, had to be operated at peak hours. "It is not the duty of publicservice vehicles to subsidize the operation of the Education Act," he said.
The general manager of West Riding Automobile Co., Mr. J. H. Margrave, chairman of the Regional Fares Committee, said that scholars' rates had been maintained at their low level only because transport companies could afford it. His company provided 107 special buses a day for school children at a loss of £6.386 a year.
Higher fares_ on buses and trams were introduced at Edinburgh last Sunday. The Licensing Authority refused permission to raise the 3d. workmen's tram fare to 4d. The corporation now proposes to abolish instead the few 4d workmen's fares that remain. so that a flat rate of 3d. will be introduced.
Trent Application
As reported in "The Commercial Motor" last week, the Trent Motor Traction Co., Ltd., Derby, has lodged an application for higher fares. Single fares would bear an additional id. to 5d. and return tickets would cost between Id. and 8d. more. The minimum workmen's fare would be 4d.
Since last April, the company states, extra costs amounting to £115,000 have been imposed on its operating costs. This is the first general application for increased fares made by the concern since its foundation in 1913, present fares averaging Id. a mile.
General increases, including a 2d. minimum, another id. on tickets between 1-id. and 4d. and another Id. on fares of higher denominations, a 50-per-cent. supplement on workmen's rates and the withdrawal of ordinary return and transfer tickets are proposed by Halifax Corporation. An application outlining these changes, the first since the war, is to be lodged.
The first loss for 10 years is expected by Lytham St. Annes undertaking. Fares may have to be modified, or the general rate raised. Profits have provided the equivalent of a 4d. rate in the past few years.
"Slight increases in fares" on Midland Red services in the Evesham area were recently forecast by the divisional superintendent. A new traffic scheme in Evesham would add 25,400 miles to the concern's annual mileage, and this would affect the overall revenue picture.
Cheltenham Fare Changes One of the ex-Red and White associate companies, Cheltenham and District Traction Co., Ltd., now under the control of Bristol Tramways and Carriage Co., Ltd., has applied for general revisions of fares and fare stages. Eleven routes are affected.
" In these days of rising costs, it would not be appropriate to add to the burden of the transport department,stated the East Midland Licensing Authority, declining to permit Lincoln City Council to give fares concessions to old-age pensioners in the city.
Concessions proposed by Nottingham Transport Department, for old unemployed people, have been turned. down by the city council. Free passes would have cost £35,000-£40,000 a year, it was estimated. Criticism by the Licensing Authority of the free-travel concessions offered by the undertaking at a recent hearing dealing with fares variations, indicated that if the scheme were implemented further applications might not find approval.