In a Line or Two
9th February 1951
Page 37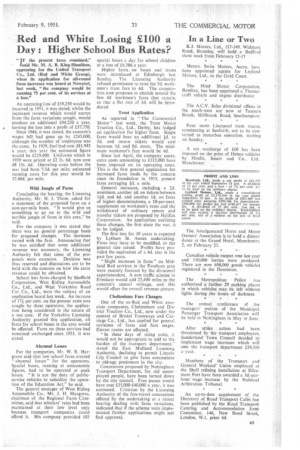 Page 37, 9th February 1951 —
In a Line or Two
Close
K.J. Motors, Ltd., 137-149, Widmorc Road, Bromley, will hold a Bedford show week from February 12-17 • Messrs. Swiss Motors, Accra, haat been appointed agents for Leyland Motors, Ltd" in the Gold Coast.
The Hind Motor Corporation, Bombay, has been appointed a Thornycroft vehicle and engine distributor The A.C.V. Sales divisional offices in the south-west are now at Tanners Brook, Millbrook Road, Southampton Four more Liverpool tram routes, terminating at Seaforth, are to be converted to motorbus operation, starting on Sunday.
A net . surcharge of £60 has been imposed on the price of Helecs vehicles by Hindle. Smart and Co., Ltd.. Manchester. , The Amalgamated Horse and Motor Owners' Association is to hold a dinnerdance at the Grand Hotel, Manchester, 2, on February 23.
Canadian vehicle output rose last year and 110,000 lorries were produced. There are now 698,000 goods vehicles registered in the Dominion.
The Metropolitan Police has authorized a further 29 parking places in which vehicles may be left without lights during the hours of darkness.
The annual conference of the managers' section of the Municipal Passenger Transport Association will be held in Nottingham in May ar June.
After strike action had been threatened by the transport employees, Sunderland Town Council decided to implement wage increases which will cost the transport department £19,500 a year.
Members of the Transport and General Workers' Union employed at the Shell refining installation at Ellesmere Port have been awarded a 3d.-perhour wage increase by the National Arbitration Tribunal.
An up-to-date supplement of the Directory of Road Transport Cafes has been published by the Road Transport Catering and Accommodation Joint Committee, 146, New Bond Street, London, W.I, price 6d.