M.P. Complains of B.R.S. Delays
9th February 1951
Page 36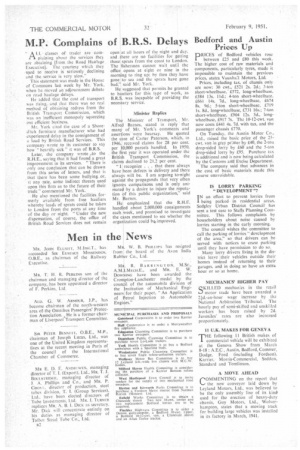 Page 36, 9th February 1951 —
M.P. Complains of B.R.S. Delays
Close
ALL L L classes of trader are cornplaining about the services they are obtaining [from the Road Haulage Executive], The courtesy which they • tksed to receive is seriously declining and the service is very slow."
This statement was made in the House of Commons last week by Mr. York, when he moved an adjournment debate on road haulage delays.
He added that the cost of transport was rising, and that there was no real method of obtaining redress from the British Transport Commission, which was an inefficient monopoly squeezing out efficient business.
Mr. York cited the case of a Shoreditch furniture manufacturer who had experienced delay in the consignment of a load by British Road Services. This company wrote to its customer to say how " heartily sick it was of B.R.S.
Later, the company wrote .to the R.H.E.. saying that it had found a great improvement in its services. "There is only one conclusion that can be drawn from this series of letters, and that is that there has been some bullying or, it any rate. some indirect threats used upon this firm as to the future of their trade" commented Mr. York.
He also mentioned the facilities formerly available from free hauliers whereby loads of sprats could be taken to London from the ports at any time of the day or night. " Under the new dispensation, of course, the office of British Road Services does not remain
open at all hours of the night and day. and there are no facilities for getting these sprats from the coast to London. The fishermen cannot wait until the office opens at eight or nine in the morning to ring up; by then they have gone to sea and the sprats have gone bad," said Mr. York.
He suggested that permits be granted to hauliers for this type of work, as B.R.S. was incapable of providing the necessary service.
Minister Replies The Minister of Transport, Mr. Alfred Barnes, stated in reply that many of Mr. York's comments and
assertions were hearsay. He quoted the case of Carter Paterson, which, in 1946, recelved claims for 28 per cent. per 10,000 parcels handled, In 1950, the first year it was operated under the British Transport Commission, the claims declined to 21.2 per cent.
"1 recognize . . that there always have been defects in delivery and there always will be. I am arguing to-night against the propaganda that very often ignores comparisons and is only animated by a desire to injure the reputation of this public organization," said Mr. Barnes.
He emphasized that the R.H.E. handled about 2.000,000 consignments each week, and promised to investigate the cases mentioned to see whether the organization could by improved.