High-pressure Liquids "On Tap"
9th April 1948
Page 54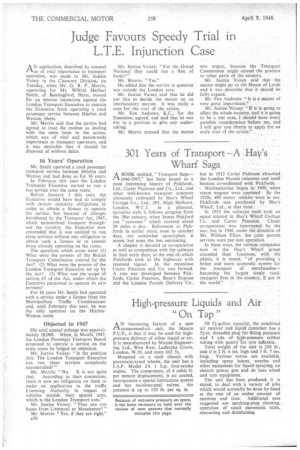 Page 54, 9th April 1948 —
High-pressure Liquids "On Tap"
Close
AN interesting feature of a new compressed-air unit, the Maxim PUP., is that it may be used for highpressure delivery of either liquid or air. It is manufactured by Maxim Engineering,' Ltd., West Row, Ladbroke Grove, London, W.10, and costs £63 5s.
Mounted on a steel chassis with pneumatic-tyred wheels, the unit has a J.A.P. Model 2A 1 h.p. four-stroke engine. The compressor, of 4 cubic ft. per minute displacement, is air cooled, incorporates a special lubrication system and has stainless-steel valves. Air pressure is up to 150 lb. per sq. in. Of 54-gallon capacity, the combined air receiver and liquid container has a 34-in, threaded plug for filling purposes and 3 yds. of le.,gh-pressure• rubber tubing with gantry for tyre inflation.
Total weight of the unit is 210 lb.; and it is 2 ft. 6 ins, high and 3 ft. 7 ins. long. Various extras are available, including spray lances, nozzles and other equipment for liquid 'spraying, an electric grease gun and de luxe wheel and tyre equipment . ,• The unit has been produced, it is stated, 'to deal with a variety of jobs which would normally be done by hand at the cost of an undue amount of exertion and time. Additional uses suggested are sparking-plug cleaning, operation of small pneumatic tools, creosoting and disinfecting.