Chain Phase Adjustment Simpli
9th April 1948
Page 48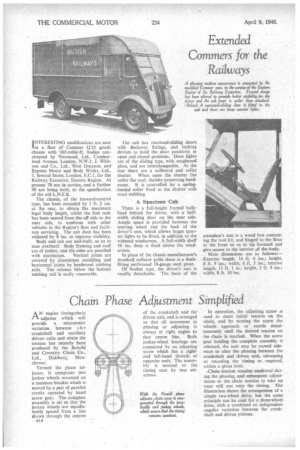 Page 48, 9th April 1948 —
Chain Phase Adjustment Simpli
Close
AN engine timing-chain -1–V adjuster which will provide a micrometer variation between t h e crankshaft and auxiliary driven units and retain the tension has recently been produced by the Renold and Coventry Chain Co., Ltd.. Didsbury, Manchester.
Termed the phase adjuster, it comprises two jockey wheels mounted on a common bracket which is moved by a pair of parallel cranks operated by band screw gear. The complete assembly is set so that the jockey wheels are equidlstantly spaced from a line drawn through the centres
of the crankshaft and the driven unit, and is arranged so that all movement in phasing or adjusting is always at right angles to that centre line. Both jockey-wheel bearings are connected by an adjusting screw which has a rightand left-hand threads at opposite ends. The assembly is secured to the timing case by two setscrews.•
In operation, the adjusting screw is used to exert initial tension on the chain, and by turning the screw the wheels approach or recede simultaneously until the desired tension on the chain is reached. When the screw gear holding the complete assembly is released, the unit may be moved sideways to alter the phasing between the crankshaft and driven unit, advancing or retarding the timing as required, within a given limit.
.Chain tension remains unaltered during the phasing, and subsequent adjustments to the chain tension to take up wear will not vary the timing. The illustration shows the arrangement of a simple two-wheel drive, but the same principle can be used for a three-wheel drive, with a combined or independent angular variation between the crankshaft and driven pinions.