Operator Not Unfit to Hold Licence, • Says Appeal Tribunal
9th April 1948
Page 31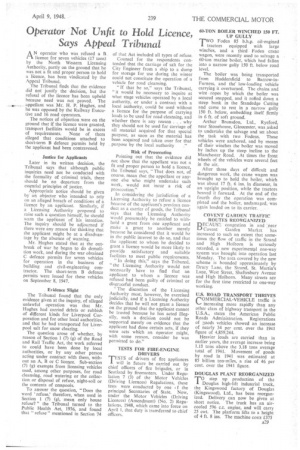 Page 31, 9th April 1948 —
Operator Not Unfit to Hold Licence, • Says Appeal Tribunal
Close
A'operator who was refused a B, licence for seven vehicles (17 tons) by the North Western Licensing Authority, partly on the ground that he was not a fit and proper person to hold a licence, has been vindicated by the Appeal Tribunal.
The Tribunal finds that the evidence did not justify the decision, but the refusal of the licence has been upheld because need was not proved. The appellant was Mr. 1-1. P. Hughes, and he was opposed by the Railway Executive and 16 road operators.
The notices of objection were on the ground that if the licence were granted, transport facilities would be in excess of requirements. None of them alleged that conditions attached to short-term B defence permits held by the applicant had been contravened.
Justice for Applicants Later in its written decision, the Tribunal says that although public inquiries need not be conducted with the formality of criminal trials, there should be no departure from the essential principles of justice.
Appropriate notice should be given by an objector who intended to rely on an alleged breach of conditions of a licence by an applicant. Similarly, if a Licensing Authority proposed to raise sun a question himself, he should warn the applicant of his intention. The inquiry should be adjourned if there were any reason for thinking that the applicant might be at a disadvantage by the absence of warning.
Mr. Hughes stated that at the outbreak of war he began to do demolition work, and during the war obtained C defence permits for seven vehicles for operation in the business of building and civil-engineering contractor. The short-term B defence permits were issued for these vehicles on September 8, 1947.
Evidence Slight The Tribunal found that the only evidence given at the inquiry, of alleged unlawful operation was that Mr. Hughes had carried debris or rubbish of different kinds for Liverpool Corporation and for other local authorities, and that he had transported for Liverpool salt for snow clearing.
The question arose of whether, by reason of Section 1 (7) (g) of the Road and Rail Traffic Act, the work referred to could have been done by local authorities, or by any other person acting under contract with them, without an A, B or C licence. Sub-section (7) (g) exempts from licensing vehicles used, among other purposes, for road cleansing, road watering or the collection or disposal of refuse, night-soil or the contents of cesspools.
To answer the question, "Does the word 'refuse,' therefore, when used in Section 1 (7) (g), mean only house refuse?" the Tribunal turned to the Public Health Act, 1936, and found that " refuse " mentioned in Section 74 of that Act included all types of refuse.
Counsel for the respondents contended that the carriage of salt for the City Engineer from a ship to a dump for storage for use during the winter could not constitute the operation of a vehicle for road cleansing.
"If that be so," says the Tribunal, "it would be necessary to inquire at what stage vehicles operated by a local authority, or under a contract with a local authority, could be used without a licence for the purpose of carrying loads to be used for road cleansing, and whether there is any reason . . . why they should not be used for carriage of all material acquired for that special purpose, as soon as the material has been acquired and taken over for that purpose by the local authority ."
Risk of Prosecution Pointing out that the evidence did not show that the appellant was not a fit and proper person to hold a licence, the Tribunal says, That does not, of course, mean that the appellant or anyone else who might undertake such work, would not incur a risk of prosecution."
in considering the jurisdiction of a Licensing Authority to refuse a licence because of the applicant's previous conduct as a carrier of goods, the Tribunal says that the Licensing Authority would presumably be entitled to withhold a grant from one applicant and make a grant to another merely because he considered that it would be in the public interest to do so, and that the applicant to whom he decided to grant a licence would be more likely to provide satisfactory and suitable facilities to meet public requirements.
"In doing this," says the Tribunal, " the Licensing Authority would not necessarily have to find that an applicant to whom a licence was refused had been guilty of criminal or disgraceful conduct.
"The discretion of the Licensing Authority must, however, be exercised judicially, and if a Licensing Authority decides that he will not grant a licence on the ground that the applicant cannot be trusted because he has acted illegally, such a decision could not be supported merely on evidence that the applicant had done certain acts, if they were acts which an operator might, with some reason, consider he was permitted to do."
TESTS FOR FIRE-ENGINE DRIVERS
T ESTS of drivers of fire appliances I will in future be carried out by chief officers of fire brigades, or in Scotland by firemasters. Under Regulation 7 (3) of the Motor Vehicles (Driving Licences) Regulations, these tests were conducted by one cf the principal Secretaries of State. Now, under the Motor Vehicles (Driving Licences) (Amendment) (No. 2) Regulations, 1948, which came into force on April 1, that duty is transferred to chief officers.