60-TON BOILER WINCHED 150 FT, UP GULLY Fo 85 b.h.p. oil-engined
9th April 1948
Page 31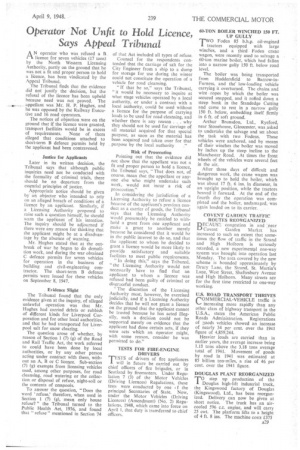 Page 31, 9th April 1948 —
60-TON BOILER WINCHED 150 FT, UP GULLY Fo 85 b.h.p. oil-engined
Close
Tr den tVractors equipped with large
winches, and a third Foden crane wagon, were recently used to salvage a 60-ton marine boiler, which had fallen into a narrow gully 150 ft. below road level.
The boiler was being transported from Huddersfield to Barrow-inFurness, and thi low-loading vehicle carrying it overturned. The chains and wire • ropes by which the boiler was secured snapped, and it rolled down a steep bank in the Standedge Cutting and came to rest in A narrow gully 150 ft. below, embedding itself firmly in 6 ft, of soft ground.
Arthur Brunsdon, Ltd" Ryeford, near Stonehouse, Gloucester, was asked to undertake the salvage and set about the task with two Fodens. These vehicles were anchored, and by means of their winches the boiler was moved by inches up the steep incline to the Manchester Road. At times the front wheels of the vehicles were several feet in the air.
After three days of difficult and dangerous work, the crane wagon was brought up to hold the boiler, which was about 17 ft. 6 ins, in diameter, in an upright position, while the tractors heaved it forward. At the end of the fourth day the operation was completed and the boiler, undamaged, was again loaded on to its carrier.
COVENT GARDEN TRAFFIC ROUTES REORGANIZED DECAUS:2,congestion in and 'near Covent Garden Market has increased to such an extent that sometimes the flow of traffic in the Strand and High Holborn is seriously retarded, a new experimental one-way system was brought into operation last Monday. The area covered by the new scheme is bounded approximately by Drury Lane, the Strand, St. Martin's Lane, West Street, Shaftesbury Avenue and High Holborn. Many streets are for the first time restricted to one-way working.
U.S. ROAD TRANSPORT THRIVES
COMMERCIAL-VEMCLE traffic is increasing more rapidly than any other class of highway transport in the U.S.A., states the American Public Roads Administration. Registrations of goods vehicles showed an increase of nearly 34 per cent, over the 1941 figure of 4,859,244.
Heavier loads are carried than in earlier years, the average increase being 1.13 tons above the 3.18 tons average total of 1941. Movement of goods by road in 1941 was estimated at 85 billion ton-miles, a rise of 46 per cent. over the 1941 figure.
DOUGLAS PLANT REORGANIZED
TO step up production of the Douglas high-lift industrial truck, the Kingswood factory of Douglas (Kingswood), Ltd., has been reorganized. Delivery can now be given at short notice. The truck has an aircooled 596 c.c. engine, and will carry 25 cwt. The platform lifts to a height of 4 ft. 8 ins. The machine costs £375