Morris-Commercial Oilers Announced 4ORRIS -COMMERCIAL vehicles al will in future
9th April 1948
Page 28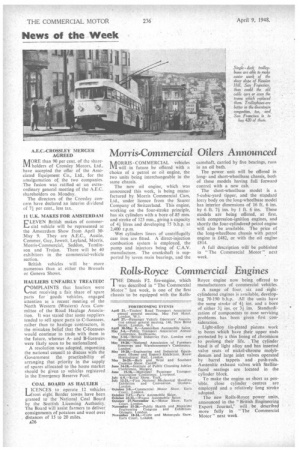 Page 28, 9th April 1948 —
Morris-Commercial Oilers Announced 4ORRIS -COMMERCIAL vehicles al will in future
Close
be offered with a choice of a petrol or oil engine, the two units being interchangeable in the same chassis.
The new oil engine, which was announced this week, is being manufactured by Morris Commercial Cars, Ltd., under licence from the Saurer Company of Switzerland. This engine, working on the four-stroke principle, has six cylinders with a bore of-85 mm. and stroke of 125 mm., giving a capacity of 44 litres and developing 75 b.h.p. at 2,400 r.p.m.
Wet cylinders liners of centrifugally cast iron are fitted. A-direct-injection combustion system is employed, the pump and injectors being of C.A.V. manufacture. The crankshaft is supported by 'seven main bearings, and the
camshaft, carried by five bearings, runs in an oil bath.
The power unit will be offered in longand short-wheelbase chassis, both of these models having full forward control with a new cab.
The short-wheelbase model is a 5-cubic-yard tipper, and the standard lorry body on the long-wheelbase model has interior dimensions of 16 ft. 6 ins. by 6 ft. 71 ins. by 1 ft. 6 ins. These models are being offered, at first, with compression-ignition engines, and shortly the four-cylindered petrol engine will also be available. The price of the long-wheelbase chassis with petrol engine is £482, or with the oil engine £14.
A full description will be published in "The Commercial Motor" next week.