One Hears
9th April 1948
Page 27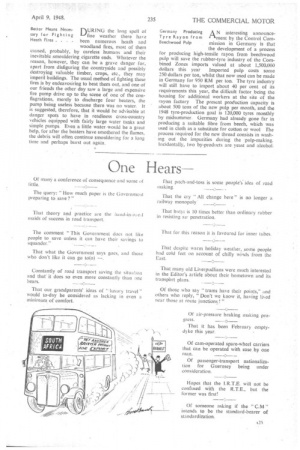 Page 27, 9th April 1948 —
One Hears
Close
Of inanY a conference of consequence and some of little.
The query: "How much paper is the Government preparing to save?"
That theory and practice are the hand-in-nand maids of success in road transport. _ The comment "This Government does not like people to save unless it can have their savings to squander."
That what the Government says goes, and those who don't like it can go to(o) Constantly of road transport saving the situatIon and that it does so even more constantly than one hears.
That our grandparent's' ideas of "luxury travel" would to-day be considered as lacking in even a minimum of comfort.
f hat pitch-and-toss is some people's. idea of road making
That the cry "All change here" is no longer a railway monopoly' That btityt is 10 times better than ordinary rubber in resisting au penetration.
That for this reason it is favoured for inner tubes.
That despite warm holiday weather, .some people had cold feet on account of chilly winds from the East.
That many old Liverpudlians were much interested in the Editor's article about their hometown and its transport plans.
Of those Who say "trams have their points," and others who reply, "Don't we know it, having lived near those at route junctions) " Of air-pressure braking making pro gress. 0 • That it has been February emptyd}ke this year.
Of cam-operated spare-wheel carriers that can be operated with ease, by one man. s) Of passenger-transport nationalization for Guernsey being under consideration.
Hopes that the I.R.T.E. will not be confused • with the R.T.E., but the former was first!
Of someone asking if the " C.M " intends to be the standard-bearer of
standardization. •