Passing comments
9th April 1948
Page 26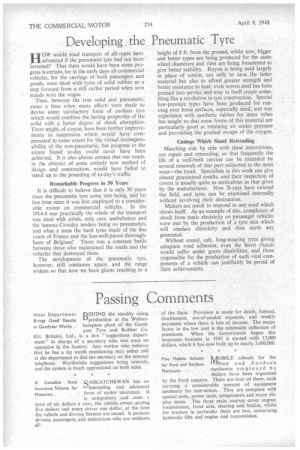 Page 27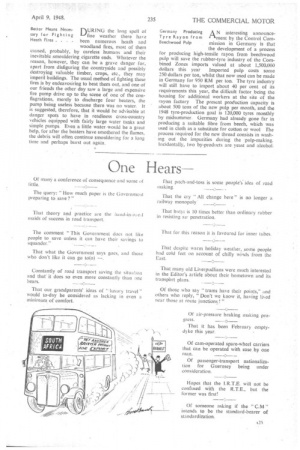 Page 26, 9th April 1948 —
Passing comments
Close
Ideas Department EHIND the steadily rising Brings Good Results "production at the Wolverat Goodyear Works . hampton plant of the Good
year Tyre and Rubber Co. (Gt. Britain), Ltd., is a live "suggestions department" in charge of a secretary who was once an operative in the factory. Any worker who believes that he has a tip worth mentioning may either call at the department or dial the secretary on the internal telephone. Worthwhile suggestions bring rewards, and the system is much appreciated on both sides.
A Canadian State QASKATCHEWAN has an Insurance Scheme for "interesting and advanced
Motorists . . . form of motor insurance. It
is compulsory and costs a total of six dollars a year, the vehicle, owner paying five dollars and every driver one dollar, at the time the vehicle and driving licences are issued. It protects drivers, passengers, and pedestrians who are residents A2:
of the State. Provision is made for death, funeral, disablement, out-of-pocket expenses, and weekly payments where there is loss of income. The major factor in the low cost is the automatic collection of premiums. When the Government began this insurance business in 1945 it started with 12,000 dollars, which it has now built up to nearly 3,000,000.
Fine Mobile Schools 'MOBILE schools for the for Ford and Fordson 'Ford and Fordson Mechanics . mechanics employed by
dealers have been organized by the Ford concern. There are four of these, each carrying a considerable amount of equipment necessary for instruction. They are complete with special tools, power units, components and many display items. The three main courses cover engine, transmission, front axle, steering and brakes, whilst for tractors in particular there are two, concerning hydraulic lifts and engine and transmission.
Better Means Necessary for Fighting Heath Fires . .
DURING the long spell of fine weather there have been numerous heath and woodland fires, most of them caused, probably, by careless humans and their inevitable smouldering cigarette ends. Whatever the reason, however, they can be a grave danger for, apart from disfiguring the countryside and possibly destroying valuable timber, crops, etc., they may imperil buildings. The usual method of fighting these tires is by endeavonring to beat them out, and one of our friends the other day saw a large and expensive lire pump drive up to the scene of one of the conflagrations, merely to discharge four beaters, the pump being useless because there was no water. It is suggested, therefore, that it would be advisable at danger spots to have in readiness cross-country vehicles equipped with fairly large water tanks and simple pumps. Even a little water-would be a great help, for after the beaters have smothered the flames, the debris will often continue smouldering for a long time and perhaps burst out again. Germany Producing A N interesting announce
Tyre Rayon from "ment by the Control Corn
Beachwood Pulp mission in Germany is that
the development of a process for producing high-tensile rayon from beechwood pulp will save the rubber-tyre industry of the Combined Zones imports valued at about 1,500,000 dollars this year Imported pulp costs sonic 250 dollars per ton, whilst that now used can be made in Germany for 950 RM per ton. The tyre industry will still have to import about 40 per cent. of its requirements this year, the difficult factor being the housing for additional workers at the site of the rayon factory The present production capacity is about 500 tons of the new pulp per month, and the 1948 tyre-production goal is 120,000 tyres monthly by midsummer. Germany had already gone far in producing a suitable fibre from beech, which was used in cloth as a substitute for cotton or wool The process required for the new thread consists in washing out the impurities during the 'pulp-making. Incidentally, two by-products are yeast and alcohol.