Developing the Pneumatic Tyre
9th April 1948
Page 26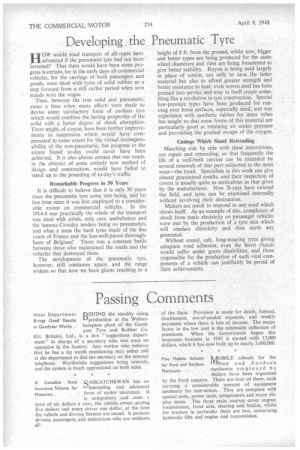 Page 26, 9th April 1948 —
Developing the Pneumatic Tyre
Close
HOW would road transport of all types have advanced if the pneumatic tyre had not been invented? That there would have been some progress is certain, for in the early days all commercial vehicles, for the carriage of both passengers and goods, were shod with tyres of solid rubber as 's step forward from a still earlier period when iron treads were the vogue.
Then, between the true solid and pneumatic, came a time when many efforts were made to devise some satisfactory form of cushion tyre which would combine the lasting properties of the solid with a better degree of shock absorption. There might, of course, have been further improvements in suspension which would have compensated to some extent for the virtual incompressibility of the non-pneumatic, but progress to the extent found to-day could never have been achieved. It is also almost certain that our roads. in the absence of some entirely new method of design and construction, would have failed to stand up to the pounding of to-day's traffic.
Remarkable Progress in 50 Years It is difficult to believe that it is only 50 years since the pneumatic tyre came into being, and far less time since it was first employed to a considerable extent on commercial vehicles. In the 1914-8 war practically the whole of the transport was shod with solids, only cars, ambulances and the famous Crossley tenders being on pneumatics, and what a mess the hard tyres made of the fine roads of France and the less-well-paved thoroughfares of Belgium! Them was a constant battle between those who maintained the roads and the vehicles that destroyed them.
The development of the pneumatic tyre, however, still continues apace, and the range widens so that now we have giants reaching to a height of 8 ft. from the ground, whilst new, bigger and better types are being produced for the same wheel diameters and rims are being broadened to give better stability. Rayon is being used largely in place of cotton, not only to save the latter material but also to afford greater strength and better resistance to heat; even woven steel has been pressed into service and may in itself create something like a revolution in tyre construction. Special low-pressure types have been produced for running over loose surfaces, especially sand, and war experience with synthetic rubber for inner tubes has taught us that some forms of this material are particularly good at retaining air under pressure and preventing the gradual escape of the oxygen.
Casings Which Stand Retreading Marching side by side with these innovations, are repair and retreading, so that frequently the life of a well-built carcase can be extended by several renewals of that part subjected to the most wear—the tread. Specialists in this work can give almost guaranteed results, and their inspection of covers is usually quite as meticulous as that given by the manufacturer. Now X-rays have entered the field, and tyres can be examined internally without involving their destruction.
Makers are quick to respond to any need which shows itself. As an example of this, complaints of shock from static electricity on passenger vehicles were met by the production of a tyre mix which will conduct electricity and thus earth any generated.
Without sound, safe, long-wearing tyres giving adequate road adhesion, even the finest chassis would suffer under grave disabilities, and those responsible for the production of such vital components of a vehicle can justifiably be proud of their achievements.