Who Should Find Drivers' Hostels ?
9th April 1948
Page 25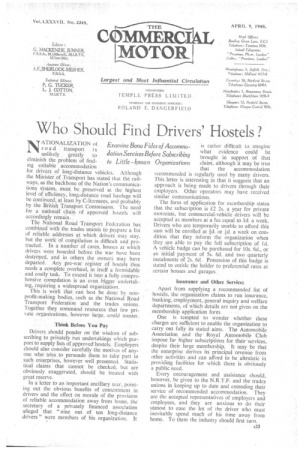 Page 25, 9th April 1948 —
Who Should Find Drivers' Hostels ?
Close
XTATIONALIZATION ot road transport is unlikely. greatly to diminish the problem of finding suitable accommodation for drivers of long-distance vehicles. Although the Minister of Transport has stated that the railways, as the backbone of the Nation's communications system, must be preserved at the highest level of efficiency, long-distance road haulage will be continued, at least by C-licensees, and probably by the British Transport Commission. The need for a national chain of approved hostels will accordingly remain.
The National Road Transport Federation has combined with the trades unions to prepare a list of reliable addresses at which drivers may stay. but the work of compilation is difficult and protracted. In a number of cases, houses at which drivers were boarded before the war have been destroyed, and in others the owners may have departed. Any pre-war register of hostels thus needs a complete overhaul, in itself a formidable and costly task. To extend it into a fully comprehensive compilation is an even bigger undertaking, requiring a widespread organization.
'This is work that can best be done by nonprofit-making bodies, such as the National Road Transport Federation and the trades unions. Together they command resources that few private organizations, however large, could muster.
Think Before You Pay Drivers should ponder on the wisdom of subscribing to privately run undertakings which purport to supply lists of approved hostels. Employers should also consider Carefully the motives of anyone who tries to persuade them to take part in such enterprises, however well presented. Statistical claims that cannot be checked, but are obviously exaggerated, should be treated with great reserve.
In a letter to an important ancillary user, pointing out the obvious benefits of contentment in drivers and the effect on morale of the provision of reliable accommodation away from home, the secretary of a privately financed association alleged that "nine out of ten long-distance drivers " were members of his organization. It is rather difficult to imagine what evidence could be brought in support of that claim, although it may be true that the accommodation recommended is regularly used by many drivers. This letter is interesting in that it suggests that an approach is being made to drivers through their employers. Other operators may have received similar communications.
The form of application for membership states that the subscription is £2 2s. a year for private motorists, but commercial-vehicle drivers will be accepted as members at a fee equal to id. a week. Drivers who are temporarily unable to afford this sum will be enrolled at id. or Id. a week on condition that they inform the organization when they are able to pay the full subscription of Id. A vehicle badge can be purchased for 10s. 6d., or an initial payment of 5s. 6d. and two quarterly instalments of 2s. 6d. Possession of this badge is stated to entitle the holder to preferential rates at certain houses and garages: Insurance and Other Services Apart from supplying a recommended list of hostels, the organization claims to run insurance, banking, employment, general inquiry and welfare departments, of which details are not given on the membership application form.
One is tempted to wonder whether these charges are sufficient to enable the organization to carry out fully its stated' aims. The Automobile Association and the Royal Automobile Club impose far higher subscriptions for their "servites, despite their large membership. It may be that the enterprise derives its principal revenue from other activities and can afford to be altruistic in providing facilities for which there is obviously a public need.
Every encouragement and assistance should, however, be given to the N.R.T.F. and the trades unions in keeping up to date and extending their service of recommended accommodation. They are the accepted representatives of employers and employees, and they are anxious to do their utmost to ease the lot of the driver who must inevitably spend much of his time away from home. To them the industry should first turn.