PEOP1:10 Freightliners' Eurochief Alan Millard has been appointed controller of European services for Freightliners.
8th June 1979
Page 82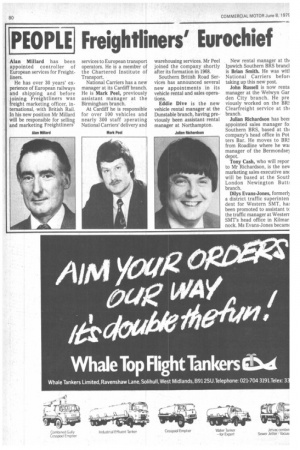 Page 83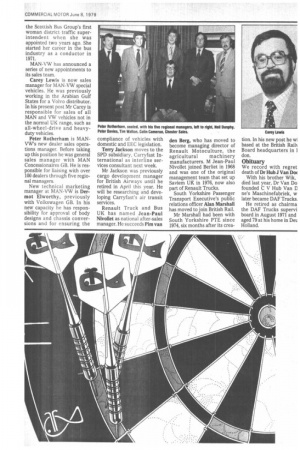 Page 82, 8th June 1979 —
PEOP1:10 Freightliners' Eurochief Alan Millard has been appointed controller of European services for Freightliners.
Close
Keywords :
Transport
,
Land Transport
,
Paccar
,
Daimler Ag
,
Freightliner Trucks
,
Trucking Industry In The United States
,
Renault
,
Volkswagen
,
Truck
,
Daf Trucks
,
Volvo
,
Business / Finance
He has over 30 years' experience of European railways and shipping and before joining Freightliners was freight marketing officer, international, with British Rail. In his new position Mr Millard will be responsible for selling and marketing Freightliners' services to European transport operators. He is a member of the Chartered Institute of Transport.
National Carriers has a new manager at its Cardiff branch. He is Mark Peel, previously assistant manager at the Birmingham branch.
At Cardiff he is responsible for over 100 vehicles and nearly 300 staff operating National Carriers' delivery and warehousing services. Mr Peel joined the company shortly after its formation in 1968.
Southern British Road Services has announced several new appointments in its vehicle rental and sales operations.
Eddie Dive is the new vehicle rental manager at the Dunstable branch, having previously been assistant rental manager at Northampton. New rental manager at th( Ipswich Southern BRS brandl is Brian Smith. He was witl National Carriers beforl taking up this new post.
John Russell is now renta manager at the Welwyn Gar den City branch. He pre viously worked on the BR Clearfreight service at th( branch.
Julian Richardson has beer appointed sales manager fa Southern BRS, based at th■ company's head office in Pot ters Bar. He moves to BR from Roadline where he waA manager of the Bermondse2 depot.
Tony Cash, who will repor to Mr Richardson, is the nev marketing sales executive am will be based at the Souti London Newington Butt! branch.
Dilys Evans-Jones, formerl a district traffic superinten dent for Western SMT, ha; been promoted to assistant tc the traffic manager at Westerr SMT's head office in Kilmar nock. Ms Evans-Jones becam( the Scottish Bus Group's first woman district traffic superintendent when she was appointed two years ago. She started her career in the bus industry as a conductor in 1971.
MAN-VW has announced a series of new appointments to its sales team.
Carey Lewis is now sales manager for MAN-VW special vehicles. He was previously working in the Arabian Gulf States for a Volvo distributor. In his present post Mr Carey is responsible for sales of all MAN and VW vehicles not in the normal UK range, such as all-wheel-drive and heavyduty vehicles.
Peter Rotherham is MANVW's new dealer sales operations manager. Before taking up this position he was general sales manager with MAN Concessionaires GB. He is responsible for liaising with over 100 dealers through five regional managers.
New technical marketing manager at MAN-VW is Dermot Elworthy, previously with Volkswagen GB. In his new capacity he has responsibility for approval of body designs and chassis conversions and for ensuring the compliance of vehicles with domestic and EEC legislation.
Terry Jackson moves to the SPD subsidiary, Carryfast International as interline services consultant next week.
Mr Jackson was previously cargo development manager for British Airways until he retired in April this year. He will be researching and developing Carryfast's air transit services.
Renault Truck and Bus UK has named Jean-Paul Nivollet as national after-sales manager. He succeeds Pim van den Berg, who has moved to become managing director of Renault Motoculture, the agricultural machinery manufacturers. M Jean-Paul Nivollet joined Berliet in 1968 and was one of the original management team that set up Saviem UK in 1976, now also part of Renault Trucks.
South Yorkshire Passenger Transport Executive's public relations officer Alan Marshall has moved to join British Rail.
Mr Marshall had been with South Yorkshire PTE since 1974, six months after its crea tion. In his new post he wi based at the British Rai11 Board headquarters in 1 don.
Obituary
We record with regret death of Dr Hub J Van Da With his brother Wik, died last year, Dr Van Do founded C V Hub Van D ne's Maschinefabriek, w later became DAF Trucks.
He retired as chairma the DAF Trucks supervi board in August 1971 and aged 79 at his home in Det Holland.
Tags
People
:
Van Do
,
Mark Peel
,
Dermot Elworthy
,
John Russell
,
Paul Nivollet
,
Jean-Paul Nivollet
,
Eurochief Alan Millard
,
Tony Cash
,
Wik
,
Pim van den Berg
,
Carey Lewis
,
Peter Rotherham
,
Julian Richardson
,
Alan Millard
,
Brian Smith
,
Eddie Dive
,
Terry Jackson
,
Alan Marshall