WESTM NSTE1 HAUL
8th June 1979
Page 7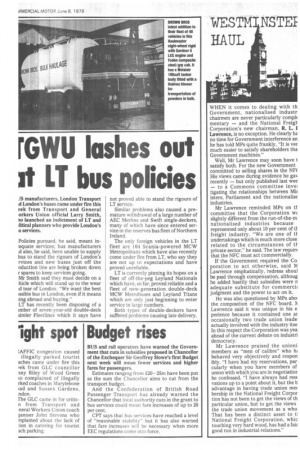 Page 7, 8th June 1979 —
WESTM NSTE1 HAUL
Close
WHEN it comes to dealing with th Government, nationalised industr chairmen are never particularly compl( mentary — and the National Freigt Corporation's new chairman, R. L. I Lawrence, is no exception. He clearly ha no time for Government interference an he has told MPs quite frankly, "It is vet much easier to satisfy shareholders tha Government machines."
Well, Mr Lawrence may soon have t satisfy both. For the new Government committed to selling shares in the NF( His views came during evidence he gal, recently — but only published last wee — to a Commons committee inve: tigating the relationships between Mit isters, Parliament and the nationalise industries.
Mr Lawrence reminded MPs on ti committee that the Corporation wt slightly different from the run-of-the-m nationalised industries because represented only about 10 per cent of ti freight industry. "We are one of a undertakings which is much more close related to the circumstances of tl private sector," he said. The law requirt that the NFC must act commercially.
If the Government required the Co poration to act otherwise, said IV Lawrence emphatically, 'redress shoul be paid through compensation, althoug he added hastily that subsidies were it adequate substitute for commercii judgment and the power to act on it.
He was also questioned by MPs aboi the composition of the NFC board. Lawrence said it was unique in his e perience because it contained one at occasionally two trade union leade actually involved with the industry itse In this respect the Corporation was yea ahead of the current debate on industri democracy. Mr Lawrence praised the unioni members as "men of calibre" who hi behaved very objectively and respon ibly. "I have had my reservations, par cularly when you have members of union with which you are in negotiatior he confessed. "I have always had res€ vations up to a point about it, but the t advantage in having trade union met bership in the National Freight Corpor tion has not been to get the views of th particular union, but to get the views the trade union movement as a who That has been a distinct asset to tl National Freight Corporation, whic touching very hard wood, has had a fait good run in industrial relations."