rGwu lashes out
8th June 1979
Page 7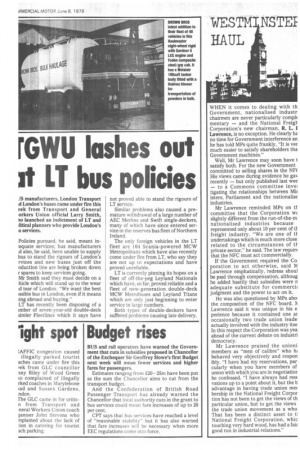 Page 7, 8th June 1979 —
rGwu lashes out
Close
Keywords :
Buses
,
Double-decker Buses
,
Land Transport
,
Road Transport
,
Transport
,
Daimler Fleetline
,
Mcw Metrobus
,
Leyland Titan
,
Aec Swift
,
Single-deck Bus
,
London Buses Route 207
it LT bus policies
JS manufacturers, London Transport id London's buses came under fire this eek from Transport and General orkers Union official Larry Smith, io launched an indictment of LT and ■ litical planners who provide London's s services.
Policies pursued, he said, meant in:equate services; bus manufacturers id also, he said, been unable to supply bus to stand the rigours of London's rvices and new buses just off the oduction line are being broken down r spares to keep services going.
Mr Smith said they must decide on a hide which will stand up to the wear id tear of London: "We want the best ■ ssible bus in London, even if it means ■ ing abroad and buying."
LT has recently been disposing of a unber of seven-year-old double-deck limier Fleetlines which it says have not proved able to stand the rigours of LT service.
Similar problems also caused a premature withdrawal of a large number of AEC Merlins and Swift single-deckers, many of which have since entered service in the reserves bus fleet of Northern Ireland.
The only foreign vehicles in the LT fleet are 164 Scania-powered MCW Metropolitans which have also recently come under fire from LT, who say they are not up to expectations and have proved unreliable.
LT is currently pinning its hopes on a fleet of off-the-peg Leyland Nationals which have, so far, proved reliable and a fleet of new-generation double-deck MCW Metrobuses and Leyland Titans which are only just beginning to enter service in large numbers.
Both types of double-deckers have suffered problems causing late delivery.