Take care when firing staff
8th June 1979
Page 64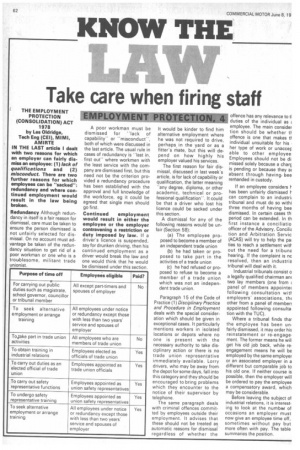 Page 64, 8th June 1979 —
Take care when firing staff
Close
THE EMPLOYMENT PROTECTION (CONSOLIDATION) ACT 1978 by Les Oldridge, Tech Eng (CEI), MIMI, AMIRTE IN THE LAST article I dealt with two reasons for which an employer can fairly dismiss an employee: (1) lack of qualifications and (2) misconduct. There are two further reasons for which employees can be "sacked": redundancy and where continued employment would result in the law being broken.
Redundancy Although redundancy in itself is a fair reason for dismissal, care must be taken to ensure the person dismissed is not unfairly selected for dismissal. On no account must advantage be taken of the redundancy situation to get rid of a poor workman or one who is a troublesome, militant trade unionist. A poor workman must be dismissed for "lack of capability" or "misconduct'', both of which were discussed in the last article. The usual rule in cases of redundancy is "last in, first out" where workmen with the least service with the company are dismissed first, but this need not be the criterion provided a redundancy procedure has been established with the approval and full knowledge of the workforce, eg it could be agreed that single men should go first.
Continued employment would result in either the employee or the employer contravening a restriction or duty imposed by law. If a driver's licence is suspended, say for drunken driving, then his continued employment as a driver would break the law and one would think that he would be dismissed under this section. It would be kinder to find him alternative employment where he was not required to drive, perhaps in the yard or as a fitter's mate, but this will depend on how highly his employer valued his services.
The first reason for fair dismissal, discussed in last week's article, is for lack of capability or qualification, the latter meaning "any degree, diploma, or other academic, technical or professional qualification". It could be that a driver who lost his licence could be sacked under this section.
A dismissal for any of the following reasons would be unfair (Section 58): (a) The employee proposed to become a member of an independent trade union (b) he had taken or proposed to take part in the activities of a trade union (c) he had refused or proposed to refuse to become a member of a trade union which was not an independent trade union.
Paragraph 15 of the Code of Practice (1) Disciplinary Practice and Procedure in Employment deals with the special consideration which should be given in exceptional cases. It particularly mentions workers in isolated locations or depots where no one is present with the necessary authority to take disciplinary action or there is no trade union representative immediately available. Lorry drivers, who may be away from the depot for some days, fall into this category and they should be encouraged to bring problems which they encounter to the notice of their supervisor by telephone.
The same paragraph deals with criminal offences committed by employees outside their employment. It advises that these should not be treated as automatic reasons for dismissal regardless of whether the offence has any relevance to ti duties of the individual as employee. The main consider tion should be whether offence is one that makes tt individual unsuitable for his her type of work or unaccep able to other employee Employees should not be di missed solely because a charc is pending or because they al absent through having, bee remanded in custody.
If an employee considers F has been unfairly dismissed I
can complain to an industri; tribunal and must do so withi three months of having bee dismissed. In certain cases th period can be extended. In th first instance a conciliatio officer of the Advisory, Conciliz tion and Arbitration Servic (ACAS) will try to help the pal ties to reach a settlement with out the need for a tribune hearing. If the complaint is nc resolved, then an industria tribunal will deal with it.
Industrial tribunals consist o a legally qualified chairman an two lay members (one from i panel of members appointer following consultation with employers' associations, thr other from a panel of memben appointed following consulta tion with the TUC).
Where a tribunal finds thai the employee has been un• fairly dismissed, it may order hi5 reinstatement or re-engage• ment. The former means he will get his old job back, while reengagement means he will be employed by the same employer or an associated employer in a different but comparable job to his old one. If neither course is possible, then the employer will be ordered to pay the employee a compensatory award, which may be considerable.
Before leaving the subject of industrial relations, it is interesting to look at the number of occasions an employer must now give an employee time off, sometimes without pay but more often with pay. The table summaries the position.