Bad headaches but rich pickings
8th June 1979
Page 60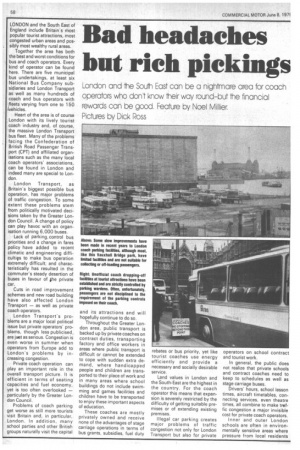 Page 61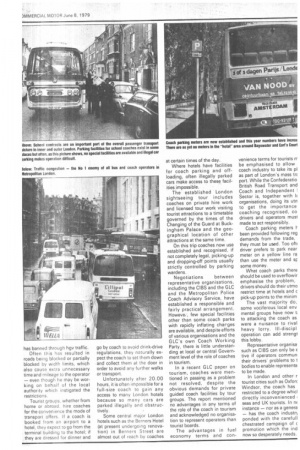 Page 60, 8th June 1979 —
Bad headaches but rich pickings
Close
London and the South East can be a nigh-mare area for coach operators who don't know their way round-but the financial rewards can be good. Feature by Noel Millier.
Pictures by Dick Ross
LONDON and the South East of England include Britain's most popular tourist attractions, most congested urban areas and possibly most wealthy rural areas.
Together the area has both the best and worst conditions for bus and coach operators. Every kind of operator can be found here. There are five municipal bus undertakings, at least six National Bus Company subsidiaries and London Transport as well as many hundreds of coach and bus operators with fleets varying from one to 150 vehicles.
Heart of the area is of course London with its lively tourist coach industry and, of course, the massive London Transport bus fleet. Many of the problems facing the Confederation of British Road Passenger Transport (CPT) and affiliated organisations such as the many local coach operators associations, can be found in London and indeed many are special to London.
London Transport, as Britain's biggest possible bus operation, has major problems of traffic congestion. To some extent these problems stem from politically motivated decisions taken by the Greater London Council. A change of policy can play havoc with an organisation running 6,000 buses.
Lack of parking, control bus priorities arid a change in fares policy have added to recent climatic and engineering difficul4s to make bus operation extremely difficult; and characteristically has resulted in the commuter's steady desertion of buses in favour of he private car.
Cuts in road improvement schemes and new road building have also affected London Transport — as well as private coach operators.
London Transport's problems are a major local political issue but private operators' pro blems, though less publicised, are just as serious. Congestion is even worse in summer when operators from Europe add to London's problems by increasing congestion.
Private coach operation can play an important role in the overall transport picture. It is efficient in terms of seating capacities and fuel economy, yet is too often overlooked — particularly by the Greater London Council.
Problems of coach parking get worse as still more tourists visit Britain and, in particular, London. In addition, many school parties and other British groups naturally visit the capital and its attractions and will hopefully continue to do so.
Throughout the Greater London area, public transport is backed up by private coaches on contract duties, transporting factory and office workers in areas where public transport is difficult or cannot be extended to cope with sudden extra demand, where handicapped people and children are transported to their place of work and in many areas where school buildings do not include swimming and games facilities and children have to be transported to enjoy these important aspects of education.
These coaches are mostly privately owned and receive none of the advantages of stage carriage operations in terms of bus grants, subsidies, fuel duty rebates or bus priority, yet like tourist coaches use energy efficiently and provide a necessary and socially desirable service.
Land values in London and the South-East are the highest in the country. For the coach operator this means that expansion is severely restricted by the difficulty of getting suitable premises or of extending existing premises.
Illegal car parking creates major problems of traffic congestion not only for London Transport but also for private operators on school contract and tourist work.
In general, the public does not realize that private schools and contract coaches need to keep to schedules as well as stage carriage buses.
Drivers' hours, school lesson times, aircraft timetables, connecting services, even theatre times, all combine to make traffic congestion a major invisible cost for private coach operators.
Inner and outer London schools are often in environmentally sensitive areas where pressure from local residents has banned through hgv traffic.
Often this has resulted in roads being blocked or partially blocked by width limits, which also cause extra unnecessary time and mileage to the operator — even though he may be working on behalf of the local authority which instigated the restrictions.
Tourist groups, whether from home or abroad, hire coaches for the convenience the mode of transport offers. If a coach is booked from an airport to a hotel, they expect to go from the terminal building to the hotel; if they are dressed for dinner and go by coach to avoid drink-drive regulations, they naturally expect the coach to set them down and collect them at the door in order to avoid any further walks or transport.
Unfortunately after 20.00 hours, it is often impossible for a full-size coach to gain any access to many London hotels because so many cars are parked illegally and obstructively.
Some central major London hotels such as the Berners Hotel (at present undergoing renovation) in Berners Street are almost out of reach by coaches at certain times of the day.
Where hotels have facilities for coach parking and offloading, often illegally parked cars make access to these facilities impossible.
The established London sightseeing tour includes coaches on private hire work and licensed tour work visiting tourist attractions to a timetable governed by the times of the Changing of the Guard at Buckingham Palace and the geographical location of other attractions at the same time.
On this trip coaches now use established and recognised, if not completely legal, picking-up and dropping-off points usually strictly controlled by parking wardens.
Negotiations between representative organisations, including the CIBS and the GLC and the Metropolitan Police Coach Advisory Service, have established a responsible and fairly practical arrangement. Howeve.-, few special facilities other than some coach parks with rapidly inflating charges are available, and despite efforts of various organisations and the GLC's own Coach Working Party, there is little understanding at local or central Government level of the role of coaches in tourism.
In a recent GLC paper on tourism, coaches were mentioned in passing as a problem not resolved, despite the obvious demands for private guided coach facilities by tour groups. The report mentioned no advantages in any terms of the role of the coach in tourism and acknowledged no organisation to represent operators than tourist boards.
The advantages in fuel economy terms and con
venience terms for tourists rr be emphasised to allow coach industry to take its pl as part of London's mass m port. While the Confederatio British Road Transport and Coach and Independent Sector is, together with k organisations, doing its utn to get the importance coaching recognised, co drivers and operators must made to act responsibly.
Coach parking meters h. been provided following reg demands from the trade, they must be used. Too oft( driver prefers to park near meter on a yellow line ra than use the meter and sr some money.
What coach parks there should be used to overflowir emphasise the problem, drivers should do their utmo restrict time at hotels and c pick-up points to the minim The vast majority do, some vociferous_ local env mental groups have now t to attacking the coach as were a nuisance to rival heavy lorry. III-discipl operation can add strengt this lobby.
Representative organisa such as CIBS can only be r tive if operators commun their drivers' problems to t bodies to enable representa to be made.
In London and other r tourist cities such as Oxforc Windsor, the coach has restricted to a degree whicl directly inconvenienced seas and UK tourists. In n( instance — nor as a genera — has the coach industr) ponded with the carefull chestrated campaign of c promotion which the ind now so desperately needs.