law permit quotas, mutt taxes Clarke
8th June 1979
Page 5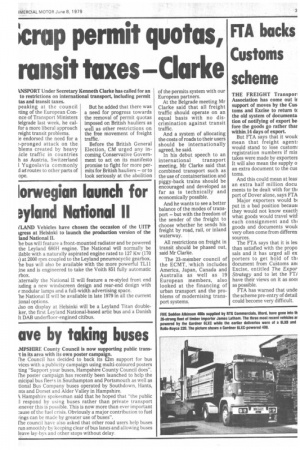 Page 5, 8th June 1979 —
law permit quotas, mutt taxes Clarke
Close
Keywords :
Transport
,
Trains
,
Land Transport
,
Sustainable Transport
,
Container Terminals
,
Public Transport
,
Transportation Planning
,
Freight Rail Transport
,
Containerization
,
Rail Transport
,
Environment
IMPORT Under Secretary Kenneth Clarke has called for an to restrictions on international transport, including permit tas and transit taxes.
peaking at the council ling of the European Connce of Transport Ministers elgrade last week, he calfor a more liberal approach reight transit problems.
fe endorsed the need for a -pronged attack on the blems created by heavy icle traffic in countries h as Austria, Switzerland Yugoslavia commonly as routes to other parts of ope. But he added that there was a need for progress towards the removal of permit quotas imposed on British hauliers as well as other restrictions on the free movement of freight traffic.
Before the British General Election, CM urged any incoming Conservative Government to act on its manifesto promise to fight for more permits for British hauliers — or to look seriously at the abolition of the permits system with our European partners.
At the Belgrade meeting Mr Clarke said that all freight traffic should operate on an equal basis with no discrimination against transit traffic.
And a system of allocating the costs of roads to their users should be internationally agreed, he said.
In his debut speech to an international transport meeting, Mr Clarke said that combined transport such as the use of containerisation and piggy-back trains should be encouraged and developed as far as is technically and economically possible.
And he wants to see a better balance of the modes of transport — but with the freedom of the sender of the freight to choose whether he sends his freight by road, rail, or inland waterway.
All restrictions on freight in transit should be phased out, said Mr Clarke.
The 23-member council of the ECMT, which includes America, Japan, Canada and Australia as well as 19 European members, also looked at the financing of urban transport and the problems of modernising transport systems.