First class for transport
8th June 1979
Page 4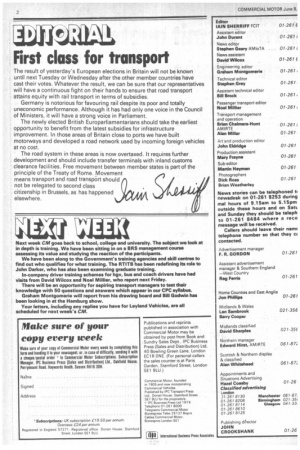 Page 4, 8th June 1979 —
First class for transport
Close
The result of yesterday's European elections in Britain will not be known until next Tuesday or Wednesday after the other member countries have cast their votes. Whatever the result, we can be sure that our representatives will have a continuous fight on their hands to ensure that road transport attains equity with rail transport in terms of subsidies.
Germany is notorious for favouring rail despite its poor and totally uneconomic performance. Although it has had only one voice in the Council of Ministers, it will have a strong voice in Parliament. The newly elected British Europarliamentarians should take the earliest opportunity to benefit from the latest subsidies for infrastructure improvement. In those areas of Britain close to ports we have built motorways and developed a road network used by incoming foreign vehicles at no cost.
The road system in these areas is now overtaxed. It requires further development and should include transfer terminals with inland customs clearance facilities. Free movement between member states is part of the principle of the Treaty of Rome. Movement means transport and road transport should not be relegated to second class citizenship in Brussels, as has happened elsewhere.