London region's dynamic plants
8th June 1979
Page 31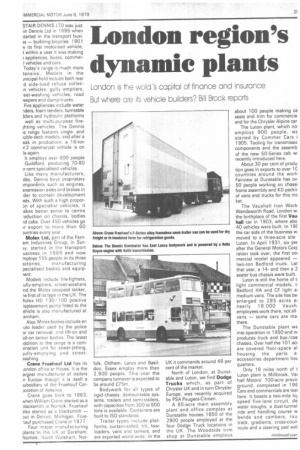 Page 32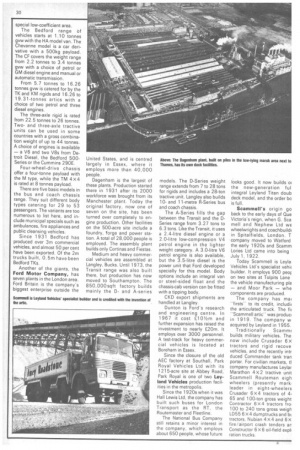 Page 31, 8th June 1979 —
London region's dynamic plants
Close
Keywords :
Transport
,
Land Transport
,
Road Transport
,
Leyland Motors
,
Trucks
,
Rootes
,
Bedford Vehicles
,
Scammell
,
Associated Equipment Company
,
Commer
,
Semi-trailer Truck
,
Ldv Pilot
London is the wold's caPital of finance and insurance But where are its vehicle builders? Bill Brock reports
STAIR DENNIS LTD was lust 'in Dennis Ltd in 1895 when rtarted in the transport busibuilding bicycles. 1901 iv its first motorised vehicle, t within a year it was making appliances, buses, commerI vehicles and cars.
Today's range is much more tensive. Models in the
Jnicipal field include both rear d side-load refuse collecin vehicles, gully emptiers, vet-washing vehicles, road iee pers and dump-trucks.
Fire appliances include water niers, foam tenders, turntable Iders and hydraulic platforms
well as multi-purpose fireihting vehicles. The Dennis
is range features singleand ■ uble-deck models, and after a eak in production, a 16-ton K2 commercial vehicle is on le again.
It employs over 800 people Guildford, producing 70-80 :r cent specialised vehicles.
Like many manufacturers, day, Dennis buys proprietary imponents such as engines, ansmission axles and brakes in 'der to contain development nts. With such a high propor Pr: of specialist vehicles, it akes better sense to centre
-oduction on chassis, bodies id cabs. Over 450 vehicles go ir export to more than 60 )untries every year.
Molex Ltd, part of the Earnam Industries Group, in Sur
)y, started in the transport usiness in 1969 and now mploys 155 people in its three ictories, manufacturing pecialised bodies and equiplent.
Models include fire-fighters, ully-emptiers, street-washers nd the Molex cesspool tanker,
-le first of its type in the UK. The ilolex HD 130 s 100 positive isplacement pump fitted to the ehicle is also manufactured at arnham.
Also Molex bodies include an uto loader used by the police or car removal, and lift-on and oll-on tanker bodies. The latest iddition to the range is a corniination unit for sewer-jetting, jully-emptying and streetvashing.
Crane Fruehauf Ltd has its .ondon office at Hayes. It is the
argest manufacturer of trailers n Europe though it is itself a iubsidiary of the Fruehauf Corporation of America.
Crane goes back to 1863, rvhen William Crane started as a
Placksmith in Norfolk. Fruehauf 3Iso started as a blacksmith — Put in Detroit, Michigan. Fruelauf purchased Crane in 1977.
Four major manufacturing plants 'in the UK at Dereham, Norfolk, North Walsham, Nor folk, Oldham, Lancs and Basildon, Essex employ more than 2,900 people. This year the company turnover is expected to be around £75m.
Bodywork for all types of rigid chassis, demountable sys: tems, trailers and semi-trailers, with capacities from 300 to 500 tons is available. Containers are built to ISO standards.
Trailer types include platforms, curtain-sided, tilt, lowloaders, vans and tankers, and are exported world-wide. In the
UK it commands around 48 pe cent of the market.
North of London, at Dunstable and Luton, we find Dodge Trucks which, as part of Chrysler UK and in turn Chrysler Europe, was recently acquired by PSA Peugeot-Citroen.
A 65-acre main assembly plant and office complex at Dunstable houses 1850 of the 2900 people employed at the four Dodge Truck locations in the UK. The Woodside trim shop at Dunstable employs about 100 people making ca seats and trim for commercia and for the Chrysler Alpine car
The Luton plant, which no. employs 900 people, WE started by Commer Cars i 1905. Tooling for transmissic components and the assemb of the new 50-Series cab WI recently introduced here.
About 30 per cent of produ tion goes in exports to over 1C countries around the wonli Fairview at Dunstable has ov 50 people working on chassi frame assembly and KD packir of vans and trucks for this ME ket.
The Vauxhall Iron Work Wandsworth Road, London w, the birthplace of the first Vau hall car in 1903, where abo 40 vehicles were built. In 19( the car side of the business w moved to a three-acre site Luton. In April 1931, six yeo after the General Motors Corp ration took over, the first col mercial model appeared — two-ton Bedford truck. Let that year, a 14and then a 2 seater bus chassis were built.
Luton is still the home of t light commercial models, t Bedford HA and CF light al medium vans. The site has be enlarged to 285 acres al nearly 18,000 Vauxh, employees work there, not all vans — some cars are ma there.
The Dunstable plant we into operation in 1950 and Fit produces truck and bus /coa chassis. Over half the 101 act are covered floor-space al housing the parts a accessories department he quarters.
Only 18 miles north of '1 Luton plant is Millbrook. Val hall Motors' 700-acre provir ground, completed in 196 Cars and commercials are tesi here. It boasts a two-mile hic speed five-lane circuit, de water troughs, a dust-tunnel ride and handling course w bends and cambers, rou track, gradients, cross-coun route and a steering pad witl special low-coefficient area.
The Bedford range of vehicles starts at 1.10 tonnes gvw with the HA model van. The Chevanne model is a car derivative with a 500kg payload. The CF covers the weight range from 2.2 tonnes to 3.4 tonnes gvw with a choice of petrol or GM diesel engine and manual or automatic transmission.
From 5.7 tonnes to 16.26 tonnes gvw is catered for by the TK and KM rigids and 16.26 to 19.31-tonnes artics with a choice of two petrol and three diesel engines.
The three-axle rigid is rated from 22.5 tonnes to 26 tonnes. Twoand three-axle tractive units can be used in some countries with a gross combination weight of up to 44 tonnes. A choice of engines is available — a V6 and two V8s from Detroit Diesel, the Bedford 500Series or the Cummins 290E.
Four-wheel-drive chassis offer a four-tonne payload with the M type, while the TM 4x4 is rated at 8 tonnes payload.
There are five basic models in the bus and coach chassis range. They suit different body types catering for 29 to 53 passengers. The variants are too numerous to list here, and include municipal specials such as ambulances, fire appliances and public cleansing vehicles.
Since 1931 Bedford has produced over 3m commercial vehicles, and almost 50 per cent have been exported. Of the 2m trucks built, 0.5m have been Bedford TKs.
Another of the giants, the Ford Motor Company, has seven plants in the London area. Ford Britain is the company's biggest enterprise outside the United States, and is centred largely in Essex, where it employs more than 40,000 people.
Dagenham is the largest of these plants. Production started there in 1931 after its 2000 workforce was brought from its Manchester plant. Today the original factory, now one of seven on the site, has been turned over completely to engine production. Other facilities on the 500-acre site include a foundry, forge and power station. A total of 28,000 people is employed. The assembly plant builds only Cortinas and Fiestas.
Medium and heavy commercial vehicles are assembled at Langley, Bucks, Until 1973, the Transit range was also built there, but production has now moved to Southampton. The 850,000 sqft factory builds mainly the Dand A-series models. The D-Series weight range extends from 7 to 28 tons for rigids and includes a 28-ton tractive unit. Langley also builds 10and 11-metre R-Series bus and coach chassis.
The A-Series fills the gap between the Transit and the DSeries range from 3.27 tons to 6.3 tons. Like the Transit, it uses a 2.4-litre diesel engine or a 2.0-litre low-compression V4 petrol engine in the lighter weight category. A 3.0-litre V6 petrol engine is also available, but the 3.5-litre diesel is the power unit that Ford developed specially for this model. Body options include an integral van or steel-sided float and the chassis-cab version can be fitted with a tipping body.
CKD export shipments are handled at Langley.
Dunton is Ford's research and engineering centre. In 1967 it cost E.101/2m and further expansion has raised the investment to nearly £20m. It employs over 3000 personnel. A test-track for heavy commercial vehicles is located at Boreham in Essex.
Since the closure of the old AEC factory at Southall, Park Royal Vehicles Ltd with its 1215-acre site at Abbey Road, Park Royal is one of two Leyland Vehicles production facilities in the metropolis.
Since the 1920s when it was Hall Lewis Ltd, the company has built such buses for London Transport as the RT, the Routemaster and Fleetline.
The National Bus Company still retains a minor interest in the company, which employs about 650 people, whose future looks good. It now builds oi the new-generation ful integral Leyland Titan doub deck model, and the order be is full.
Scammell's origin go back to the early days of Que Victoria's reign, when G. Sea
mell and Nephew Ltd we wheelwrights and coachbuildi
in Spitalfields, London. T company moved to Watford the early 1920s and Scamm Lories Ltd came into being July 1, 1922.
Today Scammell is Leyla Vehicles Ltd's specialist vehi( builder. It employs 900 peor on two sites at Tolpits Lane the vehicle manufacturing pia — and Moor Park — whe components are produced.
The company has mai "firststo its credit, includii the articulated truck. The fii "Scammell artic" was produc. in 1919. The company w acquired by Leyland in 1955.
Traditionally Scammr builds military vehicles. The now include Crusader 6)< tractors and rigid recove vehicles, and the recently intr duced Commander tank tran porter. For civilian markets, tl company manufactures Leylar Marathon 4X 2 tractive unit Scammell Routeman eigh wheelers (presently mark leader in eight-wheelers Crusader 6 X 4 tractors of 4. 65 and 100-ton gross weight Contractor 6 x 4 tractors fro 100 to 240 tons gross weigh LD55 6x4 dumptrucks and br tractors, Nubian 4x4 and 6x fire/airport crash tenders ar Constructor 6 x 6 oil-field expil ration trucks.