ubber suspension pes step further
8th June 1979
Page 25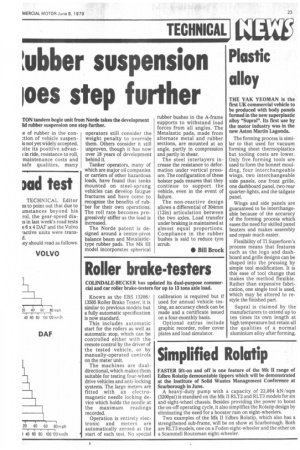 Page 25, 8th June 1979 —
ubber suspension pes step further
Close
Keywords :
Mechanical Engineering
,
Technology
,
Transport
,
Bushing
,
Elastomers
,
Organic Polymers
,
Suspension
,
Bogie
,
Natural Rubber
,
Tire
,
Yokohama Rubber Company
TON tandem bogie unit from Norde takes the development lid rubber suspension one step further.
,e of rubber in the condon of vehicle suspenis not yet widely accepted. )ite its positive advan; in ride, resistance to roll, maintenance costs and safe qualities, many operators still consider the weight penalty to override them. Others consider it still unproven, though it has now over 18 years of development behind it.
Tanker operators, many of which are major oil companies or carriers of other hazardous loads, have found that tanks mounted on steel-sprung vehicles can develop fatigue fractures and have come to recognise the benefits of rubber for their own operations. The roll rate becomes progressively stiffer as the load is increased.
The Norde patent is designed around a centre-pivot balance beam and Metalastictype rubber pads. The Mk III model incorporates spherical rubber bushes in the A-frame supports to withstand load forces from all angles. The Metalastic pads, made from alternate metal and rubber sections, are mounted at an angle, partly in compression and partly in shear.
The steel interlayers increase the resistance to deformation under vertical pressure. The configuration of these bolster pads ensures that they continue to support the vehicle, even in the event of failure.
The non-reactive design allows a differential of 304mm (121n) articulation between the two axles. Load transfer under braking is maintained at almost equal proportions. Compliance in the rubber bushes is said to reduce tyre scrub.
• Bill Brock