'Worst record' man got job driving buses
8th June 1979
Page 24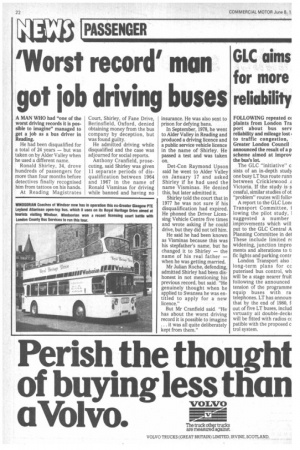 Page 24, 8th June 1979 —
'Worst record' man got job driving buses
Close
A MAN WHO had "one of the worst driving records it is possible to imagine" managed to get a job as a bus driver in Reading.
He had been disqualified for a total of 24 years — but was taken on by Alder Valley when he used a different name.
Ronald Shirley, 34, drove hundreds of passengers for more than four months before detectives finally recognised him from tattoos on his hands.
At Reading Magistrates Court, Shirley, of Fane Drive, Berinsfield, Oxford, denied obtaining money from the bus company by deception, but was found guilty.
He admitted driving while disqualified and the case was adjourned for social reports.
Anthony Cranfield, prosecuting, said Shirley was given 11 separate periods of disqualification between 1964 and 1967 in the name of Ronald Visminas for driving while banned and having no insurance. He was also sent to prison for defying bans.
In September, 1978, he went to Alder Valley in Reading and produced a driving licence and a public service vehicle licence in the name of Shirley. He passed a test and was taken on.
Det-Con Raymond Upson said he went to Alder Valley on January 17 and asked Shirley if he had used the name Visminas. He denied this, but later admitted it.
Shirley told the court that in 1977 he was not sure if his disqualification had expired. He phoned the Driver Licensing Vehicle Centre five times and wrote asking if he could drive, but they did not tell him.
He said he had been known as Visminas because this was his stepfather's name, but he changed it to Shirley — the name of his real father — when he was getting married.
Mr Julian Roche, defending, admitted Shirley had been dishonest in not mentioning his previous record, but said. "He genuinely thought when he applied to Swansea he was entitled to apply for a new licence."
But Mr Cranfield said. "He has about the worst driving record it is possible to imagine ... it was all quite deliberately kept from them."