Complaint rejected- firm had no work
8th June 1979
Page 22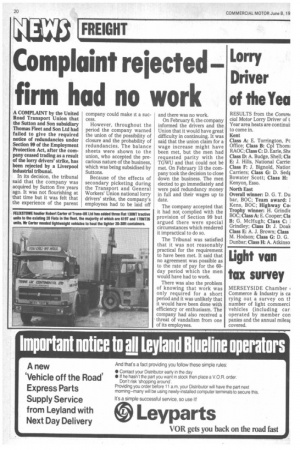 Page 22, 8th June 1979 —
Complaint rejected- firm had no work
Close
A COMPLAINT by the United Road Transport Union that the Sutton and Son subsidiary Thomas Fleet and Son Ltd had failed to give the required notice of redundancies under Section 99 of the Employment Protection Act, after the company ceased trading as a result of the lorry drivers' strike, has been rejected by a Liverpool industrial tribunal.
In its decision, the tribunal said that the company was acquired by Sutton five years ago. It was not flourishing at that time but it was felt that the experience of the parent company could make it a success.
However, throughout the period the company warned the union of the possibility of closure and the probability of redundancies. The balance sheets were shown to the union, who accepted the precarious nature of the business, which was being subsidised by Suttons.
Because of the effects of secondary picketing during the Transport and General Workers' Union national lorry drivers' strike, the company's employees had to be laid off and there was no work.
On February 6, the company informed the drivers and the Union that it would have great difficulty in continuing. It was said that the union claim for a wage increase might have been met, but the men had requested parity with the TGWU and that could not be met. On February 13 the company took the decision to close down the business. The men elected to go immediately and were paid redundancy money in full and their wages up to date.
The company accepted that it had not complied with the provision of Section 99 but argued there were special circumstances which rendered it impractical to do so.
The Tribunal was satisfied that it was not reasonably practical for the requirement to have been met. It said that no agreement was possible as to the rate of pay for the 60day period which the men would have had to work.
There was also the problem of knowing that work was only required for a short period and it was unlikely that it would have been done with efficiency or enthusiasm. The company had also received a threat of vandalism from one of its employees.