Haulier lost lorry in partnership trickery
8th June 1979
Page 20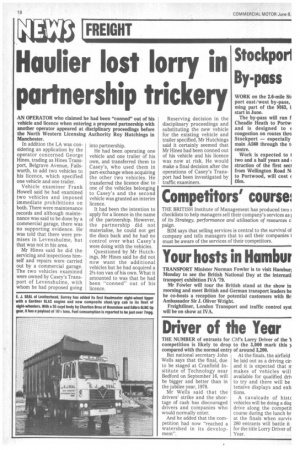 Page 20, 8th June 1979 —
Haulier lost lorry in partnership trickery
Close
AN OPERATOR who claimed he had been "conned" out of his vehicle and licence when entering a proposed partnership with another operator appeared at disciplinary proceedings before the North Western Licensing Authority Roy Hutchings in Manchester.
In addition the LA was considering an application by the operator concerned George Hines, trading as Hines Transport, Belgrave Avenue, Failsworth, to add two vehicles to his licence, which specified one vehicle and one trailer.
Vehicle examiner Frank Howell said he had examined two vehicles and imposed immediate prohibitions on both. There were maintenance records and although maintenance was said to be done by a commercial garage, there was no supporting evidence. He was told that there were premises in Levenshulme, but that was not in his area.
Mr Hines said he did the servicing and inspections himself and repairs were carried out by a commercial garage. The two vehicles examined were owned by Casey's Transport of Levenshulme, with whom he had proposed going into partnership.
He had been operating one vehicle and one trailer of his own, and transferred them to Casey's, who used them in part-exchange when acquiring the other two vehicles. He transferred the licence disc to one of the vehicles belonging to Casey's and the second vehicle was granted an interim licence.
It had been the intention to apply for a licence in the name of the partnership. However, the partnership did not materialise, he could not get the discs back and he had no control over what Casey's were doing with the vehicles.
Questioned by Mr Hutchings, Mr Hines said he did not now want the additional vehicles but he had acquired a 21/2-ton van of his own. What it amounted to was that he had been "conned" out of his licence. Reserving decision in the disciplinary proceedings and substituting the new vehicle for the existing vehicle and trailer specified, Mr Hutchings said it certainly seemed that Mr Hines had been conned out of his vehicle and his licence was now at risk. He would make a final decision after the operations of Casey's Transport had been investigated by traffic examiners.