kisic and genuine' erv shortage hits
8th June 1979
Page 19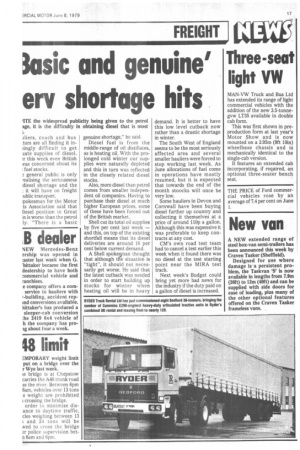 Page 19, 8th June 1979 —
kisic and genuine' erv shortage hits
Close
'ITE the widespread publicity being given to the petrol age, it is the difficulty in obtaining diesel that is most xliers, coach and bus tors are all finding it in;ingly difficult to get late supplies of diesel. ir this week even British was concerned about its fuel stocks.
a general public is only -ealising the seriousness diesel shortage and the , it will have on freight ,ublic transport.
pokesman for the Motor ts Association said that liesel position in Great in is worse than the petrol ly. "There is a basic genuine shortage," he said.
Diesel fuel is from the middle-range of oil distillates, as is heating oil. With the prolonged cold winter our supplies were naturally depleted and this in turn was reflected in the closely related diesel stocks.
Also, more diesel than petrol comes from smaller independent oil companies. Having to purchase their diesel at much higher European prices, some of these have been forced out of the British market.
Shell cut its total oil supplies by five per cent last week — and this, on top of the existing shortfall means that its diesel deliveries are around 10 per cent below current demand.
A Shell spOkesirnan thought that although the situation is "tight", it should not necessarily get worse. He said that the latest cutback was needed in order to start building up stocks for winter when heating oil will be in heavy demand. It is better to have this low level cutback now rather than a drastic shortage in winter.
The South West of England seems to be the most seriously affected area and several smaller hauliers were forced to stop working last week. As June allocations of fuel come in operations have mostly resumed, but it is expected that towards the end of the month stoocks will once be very low.
Some hauliers in Devon and Cornwall have been buying diesel further up country and collecting it themselves at a price of around 110p a gallon. Although this was expensive it was preferable to keep contracts at any cost.
CM's own road test team had to cancel a test earlier this week when it found there was no diesel at the test starting point near the MIRA test track.
Next week's Budget could bring yet more bad news for the industry if the duty paid on a gallon of diesel is increased.