Gearbox Lubrication.
7th October 1915
Page 6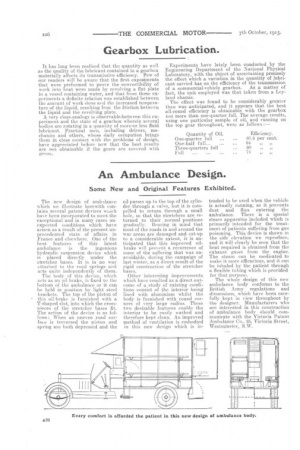 Page 6, 7th October 1915 —
Gearbox Lubrication.
Close
It has long been realized that the quantity as well as the quality of the lubricant contained in a gearbox materially affects its transmissive efficiency. Few of our readers will be aware that the first expeximents that were performed to prove the .convertibility of work into heat were made by revolving a flat plate in a vessel containing water, and that from these experiments a definite relation was established between the amount of work done and the increased temperature of the liquid, resulting iron the friction between the liquid and the revolving plate.
A very close.analogy is observable ibetiveen this experiment and the state of a gearbox wherein several bodies are rotating in a quantity of moreior less fluid lubricant. Practical men, including drivers, mechanics and others, whose daily occupation brings them in close contact with the problems of design, have appreciated befiore now that the best results are not obtainable if the gears are covered with grease. Experiments have lately been conducted by the Engineering Department of the National Physical Laboratory, with the object of ascertaining precisely the effect which a variation in the quantity of lubricant carried has on the efficiency of the transmission of a commercial-vehicle gearbox. As a matter of fact, the unit employed was that taken from a Leyland chassis.
The effect was found to be considerably greater than was anticipated, and it appears that the best all-round efficiency is obtainable with the gearbox not more than one-quarter full. The average results, using one particular sample of oil, and running on the top gear throughout, were as follows : Quantity of Oil. One-quarter full ... One-half full... Three-quarters full Full
Efficiency. 97.5 per cent. 94 90 74