An Ambulance Design.
7th October 1915
Page 6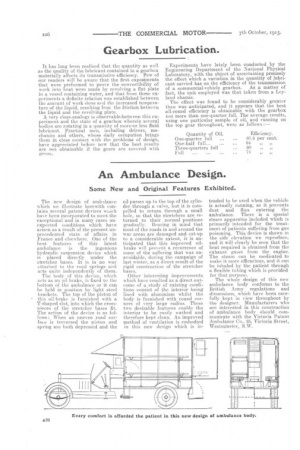 Page 6, 7th October 1915 —
An Ambulance Design.
Close
Some New and Original Features Exhibited.
The new design of amb ilance which we illustrate herewith contains several patent devices wilieh have been incorporated to meet the exceptional and in many cases unexpected conditions which have arisen as a result of the present unprecedented state of affairs in France and elsewhere. One of the best features of this latest ambulance is the ingenious hydraulic suspension device which is placed directly under the stretcher bases. It is in no way attached to the road springs and acts quite independently of them. The body of this device, which acts as an pil brake, is fixed to the bottom of the ambulance or it can be held in_position by light steel brackets. The top of the piston of this oil-brake is furnished with a T-shaped slot, into which the crosspieces of the stretcher bases fit. The action of the device is as follows: When an uneven road surface is traversed the piston and spring are both depressed and the oil passes up to the top of the cylinder through a valve, but it is compelled to return through a small hole, so that the stretchers are returned to their normal positions gradually. Bearing in mind that most of the roads in and around the war areas are damaged and cut-up to a considerable extent, it is anticipated that this improved oilbrake will prevent a recurrence of some of the suffering that was unavoidable, during the campaign of last winter, as a direct result of the rigid construction of the stretcher bases.
Other interesting improvements which have resulted as a direct outcome of a study of existing conditions consist of the interior being lined with aluminium whilst the body is furnished with round corners of very large radius. These two desirable features enable the interior to be easily washed and therefore kept clean. An improved method of ventilation is embodied in this new design which is in tended to be used when the vehicle is actually running, as it prevents dust and flies entering the ambulance. There is a special steam apparatus included which is primarily intended for the treatment of patients suffering from gas poisoning This device is shown in the side elevation we reproduce, and it will clearly be seen that the heat required is obtained from the exhaust gases from the engine. The steam can be medicated to make it more efficacious, and it can be inhaled by the patient through a flexible tubing which is provided for that purpose.
The wholedesign of this new ambulance body conforms to the British Army regulations and dimensions, which have been carefully kept in view throughout by the designer. Manufacturers who are interested in this construction of ambulance body should communicate with the Victoria Patent Ambulance Co., 25, Victoria Street, Westminster, S.W.