One Hears
7th October 1915
Page 3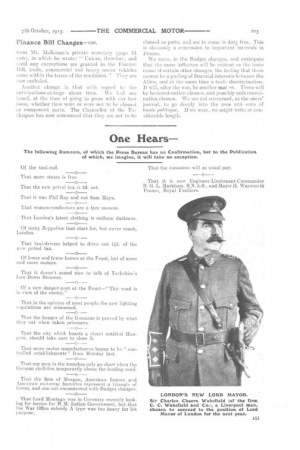 Page 3, 7th October 1915 —
One Hears
Close
The following Rumours, of which the Press Bureau has no Confirmation, but to the Publication of which, we imagine, it will take no exception.
Of the taxi-cad.
That more steam is free.
That the new petrol tax /:.s 3d. net.
That it was Phil Ray and not Sam Mayo.
That women-conductors are a fare success.
That London's latest clothing is uniform darkness.
Of many Zeppelins that start for, but never reach, London.
That taxi-drivers helped to drive out lAd. of the new petrol tax.
Of fewer and fewer horses at the Front, hut of more and more motors.
That it doesn't sound nice to talk of Yorkshire's Low-Down Steamer.
Of a new danger-post at the Front—" This road is in view of the enemy."
That in the opinion of most people the new lighting regulations are misnamed.
That the hunger of the Germans is proved by what they eat when taken prisoners.
That the city which boasts a street entitled Hungate, should take care to close it.
That more motor manufacturers began to be " controlled establishments " from Monday last.
That our men in the trenches only go short when the German shell-fire temporarily closes the feeding road.
That the firm of Morgan, American finance and American motorcar factories represent a triangle of forces, and one not unconnected with Budget changes.
That Lord Montagu was in Coventry recently looking for lorries for H.M. Indian Government, but that the War Office subsidy A type was too heavy for his purpose.. " That the consumer will as usual pay.
That it is now Engineer-Lieutenant-Commander R. G. L. Markham, R.N.A.S., and Major H. Waymouth Prance, Royal Fusiliers.