Transport supplementary
7th March 1975
Page 31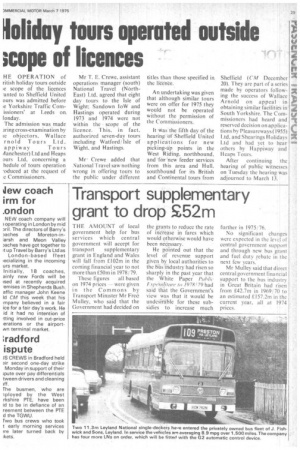 Page 31, 7th March 1975 —
Transport supplementary
Close
grant to drop 521-ri
THE AMOUNT of local government help for bus services which central government will accept for transport supplementary grant in England and Wales will fall from E102m in the coming financial year to not more than .€50m in 1978/79.
These figures all based on 1974 prices were given
in the Commons by -Transport Minister Mr Fred Mulley, who said that the Government had decided on
the grants to reduce the rate of increase in fares which would otherwise would have been necessary.
He pointed out that the level of revenue support Oven by local authorities to the bUs industry had risen so sharply in the past year that the White Paper Pith//c Evpordprire to /978179 had said that the Government's view was that it would be undesirable for these subsidies to increase much
further in 1975/76.
No significant changes were expected in the level of central government support and through new bus grant and fuel duty rebate in the next few years.
Mr Mulley' said that direct central government financial support to the bus industry in Great Britain had risen from E42.7m in 1969/70 to an estimated £157.2m in the current year, all at 1974 . prices.