Brother Opposes Bid for B Licence
7th February 1958
Page 42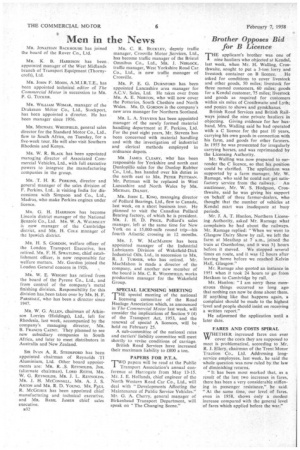 Page 42, 7th February 1958 —
Brother Opposes Bid for B Licence
Close
THE applicant's brother was one of nine hauliers who objected at Kendal, last week, when Mr. H. Walling, Crosthwaite, sought to put a 3-ton lorry and
livestock container on B licence. He asked for conditions to cover livestock and other goods, 50 miles; livestock for three named customers, 60 miles; goods for a Kendal customer, 75 miles; livestock and goods as required for customers within six miles of Crosthwaite and Lyth; and ponies to shows and gymkhanas.
British Road Services and British Railways joined the nine private hauliers in objecting. Giving evidence for her husband, Mrs. Walling said he had operated with a C licence for the past 10 years, carrying his own goods in connection with his farm, and goods for other farmers. In 1955 he was prosecuted for irregularly carrying horses, and was reprimanded by the Licensing Authority.
Mr. Walling was now prepared to surrender the C licence, so that his position could be clarified. The application was supported by a farm manager, Mr. W. Ramage, who said he could not get satis factory service from the railway. An auctioneer, Mr. W. S. Hodgson, Crosthwaite, said he was giving his support on behalf of three farmer-dealers, who thought that the number of vehicles at Kendal mart was inadequate at busy periods.
Mr. J. A. T. Hanlon, Northern Licensing Authority, asked Mr. Ramage what complaints he had about the railways. Mr. Ramage replied: "When we went to Glasgow Dairy Show by rail, we left the farm at Meathop at 7 am., joined the train at Oxenholme, and it was 3-} hours before it moved. We stopped several times en route, and it was 12 hours after leaving home before we reached Kelvin Hall, Glasgow."
Mr. Ramage also quoted an instance in 1951 when it took 24 hours to go from Hexharn to Cambridge by rail.
Mr. Hanlon: "I am sorry these monstrous things occurred so Tong ago that nothing can now be done about them. If anything like that happens again, a complaint should he made to the highest -level and people should insist on receiving a written report."
He adjourned the application until a later date.