Court imposes £1,000
6th May 1993
Page 6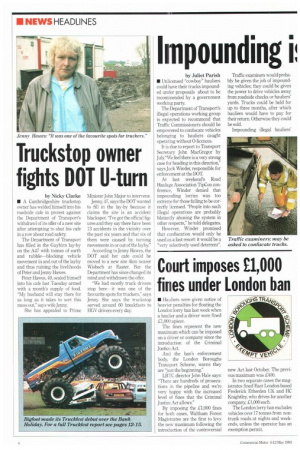 Page 6, 6th May 1993 —
Court imposes £1,000
Close
fines under London ban
• I lauliers were given notice of heavier penalties for flouting the London lorry ban last week when a haulier and a driver were fined £1,000 apiece.
The fines represent the new maximum which can be imposed on a driver or company since the introduction of the Criminal Justice Act.
And the ban's enforcement body, the London Boroughs Transport Scheme, warns they are "just the beginning"
LBTC director John Hale says: "There are hundreds of prosecutions in the pipeline and we're very happy with the increased level of fines that the Criminal Justice Act allows."
By imposing the £1,000 fines for both cases, Waltham Forest Magistrates are the first to levy the new maximum following the introduction of the controversial new Act last October. The previous maximum was £400.
In two separate cases the magistrates fined East London-based Frederick Etherden UK and HC Knightley, who drives for another company, £1,000 each.
The London lorry ban excludes vehicles over 17 tonnes from nontrunk roads at nights and weekends, unless the operator has an exemption permit.