ASA bans Meres filter warning ad
6th May 1993
Page 22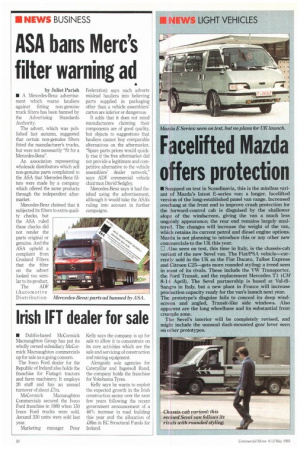 Page 22, 6th May 1993 —
ASA bans Meres filter warning ad
Close
by Juliet Parish • A Mercedes-Benz advertise. ment which warns hauliers against fitting non-genuine truck filters has been banned by the Advertising Standards Authority.
The advert, which was published last autumn, suggested that certain non-genuine filters fitted the manufacturer's trucks, but were not necessarily "fit for a Mercedes-Benz".
An association representing wholesale distributors which sell non-genuine parts complained to the ASA that Mercedes-Benz filters were made by a company which offered the same products through the independent aftermarket.
Mercedes-Benz claimed that it subjected its filters to extra quality checks, but the ASA ruled these checks did not render the parts original or genuine. And the ASA upheld a complaint from Crosland Filters that the filter on the advert looked too similar to its product.
The ADF (Automotive
Distribution Federation) says such adverts mislead hauliers into believing parts supplied in packaging other than a vehicle assemblers' carton are inferior or dangerous.
It adds that it does not mind manufacturers claiming their components are of good quality, but objects to suggestions that hauliers cannot buy comparable alternatives on the aftermarket. "Spare parts prices would quickly rise if the free aftermarket did not provide a legitimate and competitive alternative to the vehicle assemblers' dealer network," says ADF commercial vehicle chairman David Sedgley.
Mercedes-Benz says it had finished using the advertisement, although it would take the ASA's ruling into account in further campaigns.