niuntrurse
6th May 1993
Page 14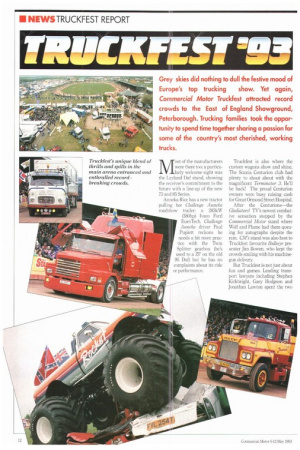 Page 15
Page 14, 6th May 1993 —
niuntrurse
Close
Grey skies did nothing to dull the festive mood of Europe's top trucking show. Yet again, Commercial Motor Truckfest attracted record crowds to the East of England Showground, Peterborough. Trucking families took the opportunity to spend time together sharing a passion for some of the country's most cherished, working trucks.
Most of the manufacturers were there too: a particularly welcome sight was t le Leyland Daf stand, showing the receiver's commitment to the future with a line-up of the new 75 and 85 Series.
Armeka Rice has a new tractor pulling her Challenge Anneka roadshow trailer: a 283kW (380hp) Iveco Ford EuroTech. Challenge Anneka driver Paul Puplett reckons he needs a bit more practice with the Twin Splitter gearbox (he's used to a ZF on the old 95 Daf) but he has no complaints about its ride or performance. Truckfest is also where the custom wagons show and shine. The Scania Centurion club had plenty to shout about with the magnificent Terminator 3. He'll be back! The proud Centurion owners were busy raising cash for Great Ormond Street Hospital.
After the Centurions—the Gladiators! TV's newest combative sensation stopped by the Commercial Motor stand where Wolf and Flame had them queuing for autographs despite the rain, EM'S stand was also host to Truckfest favourite Bullseye presenter Jim Bowen, who kept the crowds smiling with his machinegun delivery.
But Truckfest is not just about fun and games. Leading transport lawyers including Stephen Kirkbright, Gary Hodgson and Jonathan Lawton spent the two
days on CM'S stand answering hard-pressed hauliers' legal enquiries. Common problems were interpretation of drivers' hours and lack of police power to enter cabs, which Commercial Motor revealed in Legal Bulletin two weeks ago.
There was mass hysteria at the showground as hundreds of young girls watched the arrival of teenage heart-throbs Take That. But they couldn't beat the thrills of assorted car-crushing, stunt bike riding and custom trucks performing in the main arena. Pop stars come and go, but Truckfest is for ever!