ADY FOR USINESS
6th May 1993
Page 10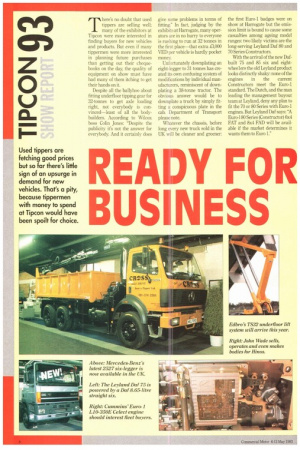 Page 11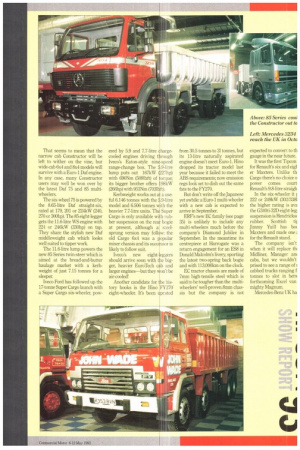 Page 12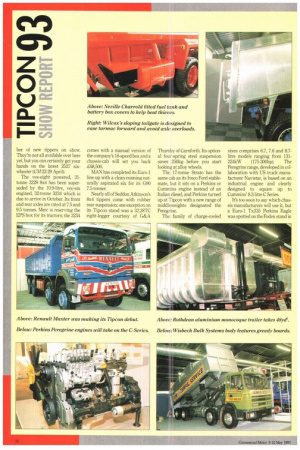 Page 13
Page 10, 6th May 1993 —
ADY FOR USINESS
Close
PT here'shere's no doubt that used
tippers are selling well; many of the exhibitors at Tipcon were more interested in finding buyers for new vehicles and products. But even if many tippermen were more interested in planning future purchases than getting out their chequebooks on the day, the quality of equipment on show must have had many of them itching to get their hands on it.
Despite all the ballyhoo about fitting underfloor tipping gear for 32-tonnes to get axle loading right, not everybody is convinced—least of all the bodybuilders. According to Wilcox boss Cohn Jones: "Despite the publicity its not the answer for everybody. And it certainly does give some problems in terms of fitting." In fact, judging by the exhibits at Harrogate, many operators are in no hurry to everyone is rushing to run at 32 tonnes in the first place—that extra £1,000 VED per vehicle is hardly pocket money.
Unfortunately downplating an eight-legger to 31 tonnes has created its own confusing system of modifications by individual manufacturers, reminiscent of downplating a 38-tonne tractor. The obvious answer would be to downplate a truck by simply fitting a conspicuous plate in the cab. Department of Transport please note.
Whatever the chassis, before long every new truck sold in the UK will be cleaner and greener: the first Eum-1 badges were on show at Harrogate but the emission limit is bound to cause some casualties among ageing model ranges: two likely victims are the long-serving Leyland Daf 80 and 70 Series Constructors.
With the arrival of the new Dafbuilt 75 and 85 six and eightwheelers the old Leyland product looks distinctly shaky: none of the engines in the current Constructors meet the Euro-1 standard. The Dutch, and the man leading the management buyout team at Leyland, deny any plan to fit the 70 or 80 Series with Euro-1 engines. But Leyland Daf says: "A Euro-180 Series (Constructor) 6x4 FAT and 8x4 FAD will be available if the market determines it wants them to Euro I."
That seems to mean that the narrow cab Constructor will be left to wither on the vine, but wide-cab 6x4 and 8x4 models will survive with a Euro-1 Dal engine. In any case, many Constructor users may well be won over by the latest Daf 75 and 85 multiwheelers.
The six-wheel 75 is powered by the 8.65-litre Daf straight-six, rated at 179, 201 or 224kW (240, 270 or 300hp). The 85 eight-legger gets the 11.6-litre WS engine with 224 or 246kW (330hp) on tap. They share the stylish new Daf middleweight cab which looks well suited to tipper work.
The 11.6-litre lump powers the new 85 Series twin-steer which is aimed at the bread-and-butter haulage market with a kerbweight of just 7.15 tonnes for a sleeper.
Iveco Ford has followed up the 17-tonne Super Cargo launch with a Super Cargo six-wheeler, pow
ered by 5.9 and 7.7-litre chargecooled engines driving through lveco's Eaton-style nine-speed range-change box. The 5.9-litre lump puts out 167kW (227hp) with 690Nm (5091bit) of torque; its bigger brother offers 1981(W (266hp) with 953Nm (703Ibft).
Kerbweight works out at a useful 6.146 tonnes with the 5,9-litre model and 6.506 tonnes with the heavier 7.7-litre units. The Super Cargo is only available with rubber suspension on the rear bogie at present, although a sledsprung version may follow: the old Cargo 6x4 was a popular mixer chassis and its succe-., ;r is likely to follow suit.
Iveco's new eight-leggers should arrive soon with the bigger, heavier EuroTech cab and larger engines—but they won't be air-cooled!
Another candidate for the history books is the Hind 'FY27, 0' eight-wheeler. It's been uprated from 30.5 tonnes to 31 tonnes, but its 13-litre naturally aspirated engine doesn't meet Euro-1. Hino dropped its tractor model last year because it failed to meet the ABS requirements; now emission regs look set to dish out the same fate to the FY270.
But don't write off the Japanese yet awhile: a Euro-1 multi-wheeler with a new cab is expected to arrive in September.
ERF's new EC family (see page 35) is unlikely to include any multi-wheelers much before the company's Diamond Jubilee in September. In the meantime its centrepiece at Harrogate was a return engagement for an ES8 in Donald Malcolm's livery, sporting the latest two-spring back bogie and with 113,000km on the clock
EC tractor chassis are made of 7mrn high-tensile steel which is said to be tougher than the multiwheelers' well-proven.8nun chassis but the company is not expected to convert to th gauge in the near future.
It was the first Tipcon for Renault's six and eigl er Maxters. Unlike th Cargo there's no choice o power comes court Renault's 9.8-litre straigh In the six-wheeler it I 222 or 249kW (302/3381 the higher rating is ava the G340ti-32D eight-leg suspension is Hendricks( rubber. Scottish Jimmy Yuill has bot Maxters and made one ; for the Renault stand.
The company isn't when it will replace till Midliner, Manager an( cabs, but we wouldn't prised to see a range of cabbed trucks ranging f tonnes to slot in betv forthcoming Excel van mighty Magnum.
Mercedes-Benz UK ha her of new tippers on show. They're not all available over here yet, but you can certainly get your hands on the latest 2527 sixwheeler (CM22-29 April).
The vee-eight powered, 31tonne 3229 8x4 has been superseded by the 10.9-litre, vee-six engined, 32-tonne 3234 which is due to arrive in October. Its front and rear axles are rated at 7.5 and 9.5 tonnes. Merc is reserving the EPS box for its tractors; the 3234 comes with a manual version of the company's 16-speed box and a chassis-cab will set you back £68,500.
MAN has completed its Euro-1 line-up with a clean-running naturally aspirated six for its G90 7.5-tonner.
Nearly all of Seddon Atkinson's 8x4 tippers come with rubber rear suspension; one exception on its Tipcon stand was a 3228TC eight-legger courtesy of G&A Thursby of Carnforth. Its optional four-spring steel suspension saves 250kg before you start looking at alloy wheels.
The 17-tonne Strato has the same cab as its Iveco Ford stable. mate, but it sits on a Perkins or Cummins engine instead of an Italian diesel, and Perkins turned up at Tipcon with a new range of middleweights designated the Peregrine.
The family of charge-cooled sixes comprises 6.7, 7.6 and 8.7litre models ranging from 131224kW (175-300hp). The Peregrine range, developed in collaboration with US truck manufacturer Navistar, is based on an industrial engine and clearly designed to square up to Cummins' 83-litre C Series.
It's too soon to say which chassis manufacturers will use it, but a Euro-1 Tx335 Perkins Eagle was spotted on the Foden stand in a 4000 Series twin-steer, parked alongside the company's latest 26 and 32-tonne multi-wheelers. Foden reports that most of its 8x4s are now going out at 32tonnes.
If the Eagle doesn't fly high enough for you Foden will be offering Cat power later this year with Euro-I versions of the 14litre 3406C. It also claims to be the only UK manufacturer to offer Cummins' N500E Celect engine, although ERF might point out that Cummins' flagship will soon be putting in an appearance in the EC range.
Compliance
Scania tippers were flagging their compliance with the EC emission rules with Euro-1 grille badges. In the chassis department there's a new 6.5m-wheelbase 8x9 MK for brick carrying work; the front axle has been uprated from 6.5 to seven tonnes to help load tolerance at 32 tonnes.
Michelin has developed a specialist trailer tyre, the XTE, because fewer tractors are being fitted with 11R22.5s that can be given a second lease of life at the back of the rig after remoulding. Like the X.DE and XZE drive and steer tyres the XTE uses varying groove width to reduce road noise, and because it doesn't have to provide traction it doesn't need a block tread.
Before long Michelin will be expanding its range further with a 425/55/19.5in tyre which is effectively a low-profile wide single.
The inherent stability of Harsh's under-floor tipping gears has been well publicised by the York-based manufacturer. It had nearly 30 of its lifts on show, beneath everything from small rigids to semi-trailers.
Last month it demonstrated the system's stability by tilt-testing a laden Wisbech Bulk Systems triaxle semi-trailer to 12° without losing contact with the ground.
Harsh doesn't have the underfloor market to itself; Edbro is among other manufacturers who have systems ready to go or in the pipeline. It has been making underbody hoists for side and rear tipping vehicles for many years and its TS32 underfloor lift system will be available later this year. It was shown at Tipcon set up for a Volvo ELIO; its twin three-stage ram and folding frame system is suitable for body lengths of 6.5-7.5m.
The Edbro system is claimed to be about 50kg lighter than a corn
parable Harsh lift and has undergone extensive field trials, tipping 25-tonne payloads 45 times a day.
Other underfloor hoists include Stallion's Startip, which uses a single 10-stage ram above the propshaft; it lifts within a sturdy folding stabiliser frame corraining the hydraulic reservoir.
Hyva showed a prototype of its new underfloor system in a simulated eight-legger chassis. It lifts via twin rams that straddle the propshaft and has a folding stabiliser frame with the lower section having a ladder-type frame and the upper part tapering towards the top.
Another newcomer with under. body gear was Nummi of Finland. Its 7.5-38-tonne ram systems were formerly known as Crown gears; they are marketed in the UK as Multilift.
The Rothdean stand also had a Scandinavian flavour, in the form of a 36.7m3 aluminium monocoque trailer built for Cwmbran haulier Richard Stevens with a Protecmatic sheeting system from Protec of Finland.
The Protecmatic cover moves back or forward in runners on the top rail via two hydraulic motors on the front bulkhead which are operated from the cab or by remote control. Rothdean has resumed production of rigid tipper bodies and can retrofit the Protec system.
Hytec Tippers' latest Roll Tarp was also on show. Hytec charges £1,000 for a kit and fit; it can be offered for any length body.
Wisbech Bulk Systems, now in its third year, underlined its rapid growth with 14 bodies on show, mostly with the Harsh system.
Removable
One unusual Aggregate King lightweight body, based on a Foden 3325 8x4 for Westhoughton-based James Booth, had removable 'greedyboard side extensions between lift-out stake posts. They give Booth the extra flexibility to carry coal or aggregates. Unequal height bulkheads of 1.45m and 1.75m give .a rearwards taper for conveyor loading and reduce drag.
There is little flexibility when it comes to axle loadings, sq Wilcox has evolved a neat way of easing the weight forward on 8x4 tarmac tippers with front-end tipping.
A Sustia P93 32-tormer with a smooth-sided, insulated 15° sloping tailgate eases the weight forward to give 18.9 tonnes on the rear bogie and provide sufficient overhang to feed into road laying machines. Another angular rearend appeared on Material Movement's PPG tarmac-bodied ERF E12 Tx300.
There are many ways to discourage thieves: Barnsley-based Hills Building Supplies simply asked Neville Charrold to add fuel tank filler and battery box covers to the underside of the body.
For maintenance or fuelling the body is raised slightly; curing a starting problem when loaded might not be so easy.
With bridge bashing very much in the news, Welford Truck bodies launched the Bridgemaster system which uses a voice alarm to alert the driver and prevent the vehicle moving off with crane attachments in the raised position.