Two approaches . to licensing• • •
6th July 1979
Page 50
Page 51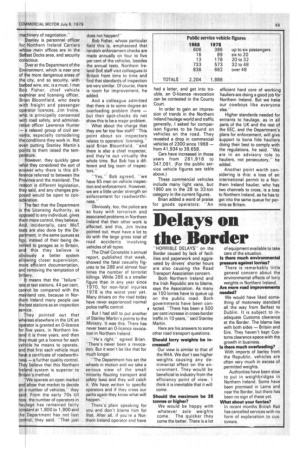 Page 50, 6th July 1979 —
Two approaches . to licensing• • •
Close
Why does Nornern Ireland hand out licences like postage stamps? It 's got Road Transport Association secretary Stanley Martin licked. Feature by John Durant
NORTHERN IRELAND's hauliers would benefit if the industry enjoyed the same licensing system as the rest of the United Kingdom. This is the view of the Road Transport Association, which fulfils the same role In the Province as the Road Haulage Association does in • England, Scotland and Wales.
However, as I learned on a visit there a few days ago, the Northern Ireland Department of the Environment does not agree with the RTA.
My first call was on Stanley Martin, secretary of the RTA, who asked: -Why should we be any different?
"The Department of the Environment here is in a control situation and it has not moved in any way to bring us into line with Great Britain, although basically the law is the same.
"Whereas in Great Britain the Licensing Authority controls all aspects of road haulage, including the number of vehicles an individual may operate, and I stress that circumstances are changing through the Certificate of Professional Competence, there is no limitation here at all on the number of vehicles you may operate once having obtained an operator's licence."
Stanley believes that the enforcement of regulations in all aspects so far as Construction and Use is concerned, at present virtually nil, is vitally important. "The DoE in Northern Ireland has about six inspectors expected to control the whole situation, and to put it frankly it is somewhat laughable. We told the DoE only today that illegal haulage in the Province is rampant."
Not only do professional, legitimate law-abiding hauliers miss out here, but on the mainland, he says, there is better support from the police. And in Britain an operator who breaks the law can have his fleet curtailed or worse still, for him, lose his 0-licence.
Over the past decade in Northern Ireland there has been no case of an 0-licence being revoked, he told me.
Although this year the DoE has warned operators that in the event of C & U Regs not being enforced, they could, first, lose vehicles and, secondly, their 0licence, the warning was so mild that no one is paying attention, he said.
Stanley blamed the attitude of politicians, mentioning that in 1965 when the Government had decided to terminate the Ulster Transport Authority monopoly, they had considered that future needs could well be met by small operators, particularly garage owners with one or two vehicles. However, the ir dustry since then had pull& itself together despite govern ment thinking.
"We would like to see th, licensing system in Norther: Ireland in keeping with wha operates across the water, indE pendent of government, so tha industry can make its presenc felt when there are application for licences — something w: have not been able to do ove the years.
"Licences are handed ou like postage stamps, althougl the situation is changing t1 some extent through the CPC The Northern Ireland 196. Transport Act, Section 64, indi cates an obligation to ensure fai competition.
"Through the years we haw felt there are two avenues when there are elements of unfai competition: one — no enforce ment by the appropriate depart ment; two — the trade union wil impose strictures on about Si: of the more reputable firm: while the remainder go scot-frei — not affected in any way by thi strictures imposed by thi machinery of negotiation."
Stanley is personnel officer for Northern Ireland Carriers whose main offices are in the Belfast Docks area, and security conscious.
Dyer at the Department of the Environment, which is near one of the more dangerous areas of the city, and so security, with barbed wire, etc, is a must, I met Bo D Fisher, chief vehicle examiner and licensing officer, Brian Bloomfield, who deals with freight and passenger operator licences, Jim Irvine, who is principally concerned witn road safety, and administrative officer Lawrence Hunter — a relaxed group of civil servants, especially considering the conditions they work in. Not even putting Stanley Martin's points to them raised the temperature.
-lowever, they quickly gave what they considered the sort of answer why there is this difference referred to between the Province and the mainland. The reason is different legislation, they said, and any changes proposed would be open to consideration.
The fact that the Department is the Licensing Authority, as opposed to any individual, gives the-n more control, they believe, And, incidentally, cars' MoT tests are also done by the Department, in the same queues as hg., instead of their being devolved to garages as in Britain, and this they believe is ob'iously a better system allowing closer supervision, mo-e efficient documentation, anc removing the temptation of bribery.
It means that the ''failure'' rate at test stations, 44 per cent, cannot be compared with the mainland rate, because in Northe n Ireland many people use the test stations as an inspection service.
-hey pointed out that whereas elsewhere in the UK an operator is granted an 0-licence for five years, in Northern Ireland it is three years, and then they must get a licence for each vehicle he means to operate, and that first each vehicle must have a certificate of roadworthiness — a further quality control. They believe that this Northern Ireland system is superior to Britain's method.
-We operate an open market and allow that market to decide on a number of vehicles," they said. From the early 70s till now, the number of operators in haLlage has remained fairly onstant at 1,800 to 1,900 and the Department has not lost aontrol, they said. "That just
does not happen!'' Bob Fisher, whose particular field this is, emphasised that random enforcement checks are made annually on four to five per cent of the vehicles, besides the annual tests. Northern Ireland DoE staff visit colleagues in Britain from time to time and find that standards of inspection are very similar. Of course, there is room for improvement, he added.
And a colleague admitted that there is to some degree an overloading problem there — but their spot-checks do not show this to be a major problem.
What about the charge that they are far too few staff? ''This point about six inspectors relates to operators' licensing,said Brian Bloomfield, "and there is also a chief inspector, and they're out virtually the whole time. But Bob has a different and big team of inspectors."'
"Yes," Bob agreed, "we have 65 men on vehicle inspection and enforcement. However, we are a little under strength on enforcement for roadworthiness."
Obviously, too, the police are so busy with terrorism and associated problems in Northern Ireland that their other work is affected, and this, Jim Irvine pointed out, must have a lot to do with the large gross total of road accidents involving vehicles of all types.
The Chief Constable's annual report, published that week, showed the fatal casualty figures to be 288 and almost four times the number of terrorist killings. While 288 is a smaller figure than in any year since 1970, for non-fatal injuries 1978 is the worst year yet. Many drivers on the road today have never experienced normal police traffic control.
But I had still to put another of Stanley Martin's points to the Ministry. It was this. There has never been an 0-licence revocation in Northern Ireland.
-He's right,agreed Brian. "There's never been a revocation. But it won't be like that for much longer.
-The Department has set the wheels in motion and we take a serious view of the small minority flouting transport and safety laws and they will catch it. We have written to specific operators and if they cross our paths again they know what will happen.
There's plain speaking for you and don't blame him for that. After all, if you're a Northern Ireland operator and have had a letter, and get into trouble, an 0-licence revocation can be contested in the County Court.
In order to gain an impression of trends in the Northern Ireland haulage world and traffic generally, I asked for comparison figures to be found on vehicles on the road. They revealed a drop in commercial vehicles of 2300 since 1968 — from 41,934 to 39,658.
Cars have increased in those years from 261,918 to 347,091. (For the public service vehicle figures see table above.) These commercial vehicles include many light vans, but 1960 are in the 28 to 32-ton category in the current figures.
Brian added a word of praise for goods operators: "An efficient hard core of working hauliers are doing a good job for Northern Ireland. But we have our cowboys like everyone else."
Higher standards needed for entrants to haulage, as in all parts of the UK and the rest of the EEC, and the Department's plans for enforcement, will give support to bona fide hauliers doing their best to comply with the regulations, he said. "We are in an advisory role to hauliers, not persecutory," he added.
Another point worth considering is this: a loss of an international permit to a Northern Ireland haulier, who has two channels to cross, is a loss to Northern Ireland, as he has to get into the same queue for permits as Britain.