Delays on the Border
6th July 1979
Page 51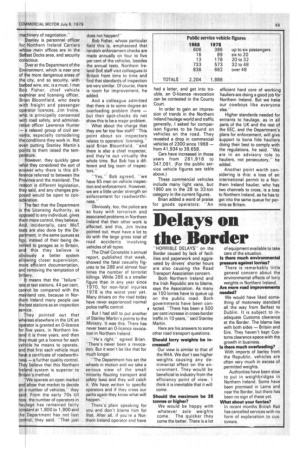 Page 51, 6th July 1979 —
Delays on the Border
Close
"HORRIBLE DELAYSon the Border caused by lack of facilities and paperwork and aggravated by drivers' shorter hours are also causing the Road Transport Association concern.
Both Northern Ireland and the Irish Republic are to blame, says the Association: As many as 150 lorries have to queue up on the public road. Both governments have been con s tacted. "There has been a 500 per cent increase in cross-border traffic in 1 0 years," said Stanley Martin.
Here are his answers to some other road transport questions: Should lorry weights be increased?
Our view is similar to that of the RHA. We don't see higher weights causing any detrimental effect on the environment. They would be beneficial to industry from the efficiency point of view. I think it is inevitable that it will come.
Should the maximum be 38 tonnes or higher?
We would be happy with whatever axle weights come The quicker they come the better. There is a lot of equipment available to take care of the situation.
Is there much environmental pressure against lorries?
There is remarkably little general concern about the environmental effects of lorry weights in Northern Ireland. Are more road improvements needed?
We would have liked something of motorway standard all the way from Belfast to Dublin. It is subject to inadequate Customs clearance at the Border. The blame lies with both sides — Britain and Eire. They haven't kept Customs clearance apace with the growth in business.
Is there much overloading? With imports of barley from the Republic, vehicles are often very much in excess of permitted weights.
Authorities have been slow to put in weighbridges in Northern Ireland. Some have been promised in Larne and near the Border, but there has been no sign of these yet.
What about your ferries?
In recent months British Rail has cancelled services with no form of explanation to customers.