Sparkling white blows off the dust
6th July 1979
Page 30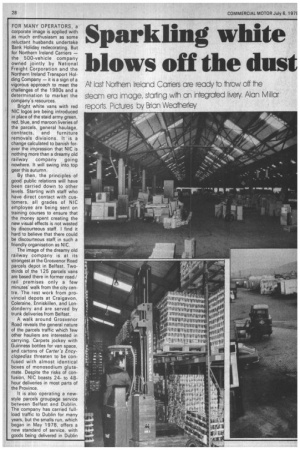 Page 31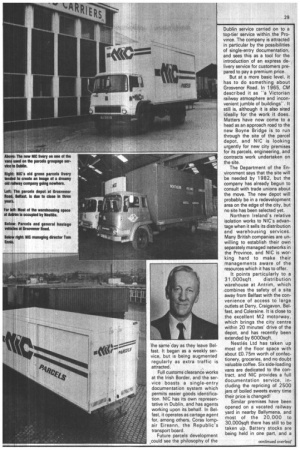 Page 32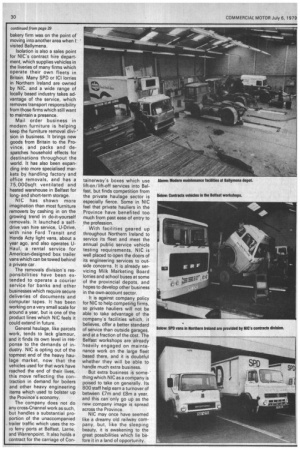 Page 30, 6th July 1979 —
Sparkling white blows off the dust
Close
At last Norhern Ireland Carriers are ready to throw off the steam era image, starting wih an integrcred livery. Alan Millar report. Pictures by Brian Weatherley
FOR MANY OPERATORS, a corporate image is applied with as much enthusiasm as some reluctant husbands undertake Bank Holiday redecorating. But for Northern Ireland Carriers — the 500-vehicle company owned jointly by National Freight Corporation and the Northern Ireland Transport Holding Company — it is a sign of a vigorous approach to meet the challenges of the 1980s and a determination to market the company's resources.
Bright white vans with red NIC logos are being introduced in place of the staid army green, red, blue, and maroon liveries of the parcels, general haulage, contracts, and furniture removals divisions. It is a change calculated to banish forever the impression that NIC is nothing more than a dreamy old railway company going nowhere. It will swing into top gear this autumn.
By then, the principles of good public relations will have been carried down to other levels. Starting with staff who have direct contact with customers, all grades of NIC employee are being sent on training courses to ensure that the money spent creating the new visual effects is not wasted by discourteous staff. I find it hard to believe that there could be discourteous staff in such a friendly organisation as NIC.
The image of the dreamy old railway company is at its strongest at the Grosvenor Road parcels depot in Belfast. Twothirds of the 125 parcels vans are based there in former road/ rail premises only a few minutes' walk from the city centre. The rest work from provincial depots at Craigavon, Coleraine, Enniskillen, and Londonderry and are served by trunk deliveries from Belfast.
A walk around Grosvenor Road reveals the general nature of the parcels traffic which few other hauliers are interested in carrying. Carpets jockey with Guinness bottles for van space, and cartons of Carter's Encyclopedias threaten to be confused with almost identical boxes of monosodium glutamate. Despite the risks of confusion, NIC boasts 24to 48hour deliveries in most parts of the Province.
It is also operating a newstyle parcels groupage service between Belfast and Dublin. The company has carried fullload traffic to Dublin for many years, but the smalls run, which began in May 1978, offers a new standard of service, with goods being delivered in Dublin he same day as they leave Belfast. It began as a weekly service, but is being augmented regularly as extra traffic is attracted.
Full customs clearance works at the Irish Border, and the service boasts a single-entry documentation system which permits easier goods identification. NIC has its own representative in Dublin, and has agents working upon its behalf_ In Belfast, it operates as cartage agent for, among others, Cores lompair Eireann, the Republic's transport board.
Future parcels development ,could see the philosophy of the Dublin service carried on to a top-tier service within the Province. The company is attracted in particular by the possibilities of single-entry documentation, and sees this as a tool for the introduction of an express de-, livery service for customers prepared to pay a premium price.
But at a more basic level, it has to do something about Grosvenor Road, In 1965, CM described it as "a Victorian railway atmosphere and inconvenient jumble of buildings". It still is, although it is also sited ideally for the work it does.
Matters have now come to a head as an approach road to the
new Boyne Bridge i8 to run
through the site of the parcel depot, and NIC is looking urgently for new city premises for its parcels, engineering, and contracts work undertaken on the site.
The Department of the Environment says that the site will be needed by 1982, but the company has already begun to consult with trade unions about the move. The new depot will probably be in a redevelopment area on the edge of the city, but no site has been selected yet.
Northern Ireland's relative isolation works to NIC's advan tage when it sells its distribution and warehousing services. Many British companies are un willing to establish their own separately managed networks in the Province, and NIC is wor king hard to make their managements aware of the resources which it has to offer.
It points particularly to a 31,000sqft distribution warehouse at Antrim, which ,combines the safety of a site away from Belfast with the con venience of access to large ,outlets at Derry, Craigavon, Belfast, and Coleraine. It is close to the excellent M2 motorway, which brings the city centre within 20 minutes" drive of the depot, and has recently been extended by 6000sqft.
Nestles Ltd has taken up most of the floor space with about £0.75m worth of confec tionery, groceries, and no doubt valuable coffee. Six side-loading vans are dedicated to the con tract, and NIC provides a full documentation service, in cluding the repricing of 2500 jars of boiled sweets every time their price is changed!
Similar premises have been opened on a vacated railway yard in nearby Ballymena, and most of the 20,000 to 30,000sqft there has still to be taken Battery stocks are being held in one part, and a bakery firm was on the point of moving into another area when visited Ballymena.
Isolation is also a sales point for NIC's contract hire department, which supplies vehicles in the liveries of many firms which operate their own fleets in Britain. Many SPD or ICI lorries in Northern Ireland are owned by NIC, and a wide range of locally based industry takes advantage of the service, which removes transport responsibility from those firms which still want to maintain a presence.
Mail order business in modern furniture is helping keep the furniture removal divi sion in business. It brings new goods from Britain to the Pro vince, and packs and de spatches household effects for destinations throughout the world. It has also been expan ding into more specialised markets by handling factory and office removals, and has a 75,000sqft ventilated and heated warehouse in Belfast for longand short-term storage.
NIC has shown more imagination than most furniture removers by cashing in on the growing trend in do-it-yourself removals. It launched a self drive van hire service, U-Drive, with nine Ford Transit and Honda Acty light vans, about a year ago, and also operates UHaul, a rental service for American-designed box trailer vans which can be towed behind a private car.
The removals division's responsibilities have been ex tended to operate a courier service for banks and other businesses which require secure deliveries of documents and computer tapes. It has been working on a very small scale for around a year, but is one of the product lines which NIC feels it could extend in future.
General haulage, like parcels work, tends to lack glamour, and it finds its own level in res ponse to the demands of industry. NIC is opting out of the topmost end of the heavy hau lage market, now that the vehicles used for that work have reached the end of their lives,
this move reflecting the contraction in demand for boilers and other heavy engineering
items which used to bolster up the Province's economy.
The company does not do any cross-Cnannel work as such, but handles a substantial proportion of the unaccompanied trailer traffic which uses the roco ferry ports at Belfast, Larne, and Warrenpoint. It also holds a contract for the carriage of Con tainerway's boxes which use lift-on/lift-off services into Belfast, but finds cornpetition from the private haulage sector is especially fierce. Some in NIC feel that private hauliers in the Province have benefited too much from past ease of entry to the profession.
With facilities geared up throughout Northern Ireland to service its fleet and meet the annual public service vehicle testing requirements, NIC is well placed to open the doors of its engineering services to outside concerns. It is already servicing Milk Marketing Board lorries and school buses at some of the provincial depots, and hopes to develop other business in the own-account sector.
It is against company policy for NIC to help competing firms, so private hauliers will not be able to take advantage of the company's facilities which, it believes, offer a better standard of service than outside garages, and at a fraction of the cost. The Belfast workshops are already heavily engaged on maintenance work on the large fleet based there, and it is doubtful whether they will be able to handle much extra business.
But extra business is some-' thing which NIC as a company is poised to take on generally. Its 800 staff help earn a turnover of between Um and £.8m a year, and this can-only go up as the new company image is spread across the Province.
NIC may once have seemed like a dreamy old railway company, but, like the sleeping beauty, it is awakening to the great possibilities which lie before it in a land of opportunity.