PEOPLE, GOODYEAR Tyre and Rubber Company has reorganised its distribution
6th July 1979
Page 22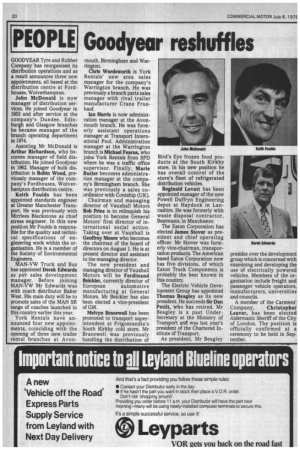 Page 22, 6th July 1979 —
PEOPLE, GOODYEAR Tyre and Rubber Company has reorganised its distribution
Close
operations and as a result announces three new appointments, all based at the distribution centre at Fordhouses, Wolverhampton.
John McDonald is now manager of distribution services. He joined Goodyear in 1953 and after service at the company's Dundee, Edinburgh and Glasgow branches he became manager of the branch operating department in 1974.
Assisting Mr McDonald is Arthur Richardson, who becomes manager of field distribution. He joined Goodyear in 1962. Manager of bulk distribution is Robin Wood, previously manager of the company's Fordhouses, Wolverhampton distribution centre.
Keith Foulds has been appointed standards engineer at Greater Manchester Transport. He was previously with Mirrlees Blackstone as chief stress engineer. In this new position Mr Foulds is responsible for the quality and technical specifications of engineering work within the organisation. He is a member of the Society of Environmental Engineers.
MAN-VW Truck and Bus has appointed Derek Edwards as psv sales development manager. Before joining MAN-VW Mr Edwards was with coach distributor Baker West. His main duty will be to promote sales of the MAN SR range of coaches launched in this country earlier this year.
York Rentals have announced four new appointments, coinciding with the opening of three new trailer rental branches at Avon mouth, Birmingham and Warrington.
Chris Wordsworth is York Rentals' new area sales manager for the company's Warrington branch. He was previously a branch parts sales manager with rival trailer manufacturer Crane Fruehauf.
Ian Harris is now administration manager at the Avonmouth branch. He was formerly assistant operations manager at Transport International Pool. Administration manager at the Warrington branch is Michael Fearns, who joins York Rentals from SPD where he was a traffic office supervisor. Finally, Marie Butler becomes administration manager at the company's Birmingham branch. She was previously a sales coordinator with Contship (UK).
Chairman and managing director of Vauxhall Motors Bob Price is to relinquish his position to become General Motors' first director of international social action. Taking over at Vauxhall is Geoffrey Moore who becomes the chairman of the board of directors on August 1. He is at present director and assistant to the managing director.
The new president and managing director of Vauxhall Motors will be Ferdinand Beickler, currently director of European automotive manufacturing at General Motors. Mr Beickler has also been elected a vice-president of GM.
Melvyn Bracewell has been promoted to transport superintendent at Frigoscandia's South Kirkby cold store. Mr Bracewell was previously handling the distribution of Bird's Eye frozen food products at the South Kirkby store. In his new position he has overall control of the store's fleet of refrigerated distribution vehicles.
Reginald Lovatt has been appointed manager of the new Powell Duffryn Engineering depot at Haydock in Lancashire. He was formerly with waste disposal contractor, Beatwaste, in Manchester.
The Eaton Corporation has elected James Stover as president and chief operating officer. Mr Stover was formerly vice-chairman, transportation products. The American based Eaton Corporation now has five divisions, of which Eaton Truck Components is probably the best known in this country.
The Electric Vehicle Development Group has appointed Thomas Beagley as its new president. He succeeds Sir Dan Pettit, who has retired. Mr Beagley is a past UnderSecretary at the Ministry of Transport and was last year's president of the Chartered Institute of Transport.
As president, Mr Beagley presides over the development group which is concerned with examining and developing the use of electrically powered vehicles. Members of the organisation include freight and passenger vehicle operators, manufacturers, universities and councils.
A member of the Carmens' Company, Christopher Leaver, has been elected Aldermanic Sheriff of the City of London. The position is officially confirmed at a ceremony to be held in September.
Tags
People
:
Reginald Lovatt
,
Dan Pettit
,
Marie Butler
,
Powell Duffryn
,
James Stover
,
Melvyn Bracewell
,
Geoffrey Moore
,
Keith Foulds
,
John McDonald
,
Thomas Beagley
,
Christopher Leaver
,
Arthur Richardson
,
Ferdinand Beickler
,
Chris Wordsworth
,
Robin Wood
,
Michael Fearns
,
Ian Harris
,
Derek Edwards