A summer season of M-way delays
6th April 1985
Page 8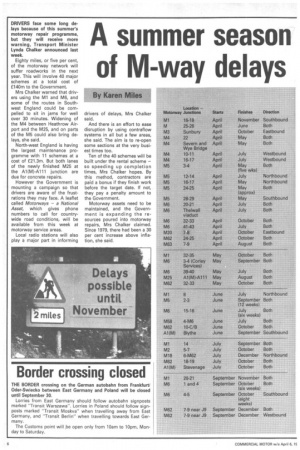 Page 8, 6th April 1985 —
A summer season of M-way delays
Close
DRIVERS face some long delays because of this summer's motorway repair programme, but they will receive more warning, Transport Minister Lynda Chalker announced last week.
Eighty miles, or five per cent, of the motorway network will suffer roadworks in the next year. This will involve 40 major schemes at a total cost of £140m to the Government.
Mrs Chalker warned that drivers using the M1 and M6, and some of the routes in Southwest England could be compelled to sit in jams for well over 30 minutes. Widening of the M4 between Heathrow Airport and the M25, and on parts of the M5 could also bring delays, she said.
North-west England is having the largest maintenance programme with 11 schemes at a cost of E21.3m. But both lanes of the newly finished M25 at the A1(M)-A111 junction are due for concrete repairs.
However the Government is mounting a campaign so that drivers are aware of the frustrations they may face. A leaflet called Motorways — a National Asset, which gives phone numbers to call for countrywide road conditions, will be available from this week at motorway service areas.
Local radio stations will also play a major part in informing drivers of delays, Mrs Chalker said.
And there is an effort to ease disruption by using contraflow systems in all but a few areas, she said. The aim is to re-open some sections at the very busiest times too.
Ten of the 40 schemes will be built under the rental scheme — so speeding up completion times, Mrs Chalker hopes. By this method, contractors are paid a bonus if they finish work before the target date. If not, they pay a penalty amount to the Government.
Motorway assets need to be maintained, and the Government is expanding the resources poured into motorway repairs, Mrs Chalker claimed. Since 1979, there had been a 30 per cent increase above inflation, she said.