Appeal dismissed
6th April 1985
Page 7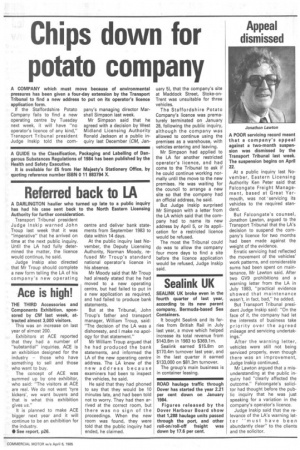 Page 7, 6th April 1985 —
Appeal dismissed
Close
A POOR servicing record meant that a company's appeal against a two-month suspension was dismissed by the Transport Tribunal last week. The suspension begins on April 22.
At a public inquiry last November, Eastern Licensing Authority Ken Peter said that Falcongate Freight Management, based at Great Yarmouth, was not -servicing its vehicles to the required standard.
But Falcongate's counsel, Jonathon Lawton, argued to the Transport Tribunal that the LA's decision to suspend the company's licence for two months had been made against the weight of the evidence.
Erratic servicing had reflected the movement of the vehicles' work patterns, and considerable sums had been spent on maintenance, Mr Lawton said. After two GV9 prohibitions and a warning letter from the LA in July 1983, "practical evidence showed that maintenance wasn't, in fact, bad," he added.
But Transport Tribunal president Judge lnskip said: "On the face of it, the company had let the interests of business take priority over the agreed mileage and servicing undertakings."
After the warning letter, vehicles were still not being serviced properly, even though there was an improvement, Judge lnskip continued.
Mr Lawton argued that a misunderstanding at the public inquiry had "clearly affected the outcome." Falcongate's solicitor had thought before the public inquiry that he was just speaking for a variation in the company's operator's licence.
Judge lnskip said that the relevance of the LA's warning letter "must have been abundantly clear" to the clients and the solicitor.