The transport package
6th April 1985
Page 65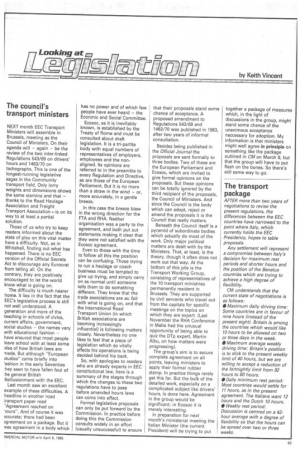 Page 65, 6th April 1985 —
The transport package
Close
AFTER more than two years of negotiations to revise the present regulations, the differences between the EEC countries have narrowed to the point where Italy, which currently holds the EEC Presidency, hopes to table proposals.
Any settlement will represent a compromise between Italy's decision for maximum rest periods and shorter hours and the position of the Benelux countries which are trying to achieve a high degree of CM understands that the current state of negotiations is as follows: • Maximum daily driving time: Some countries are in favour of nine hours (instead of the present eight). Britain is among the countries which would like 10 hours to be allowed on two or three days in the week.
• Maximum average weekly driving time: Britain's position is to stick to the present weekly limit of 40 hours, but we are willing to accept a reduction of the fortnightly limit from 92 hours to 80 hours.
• Daily minimum rest period: Most countries would settle for 11 hours, as in the present agreement. The Italians want 12 hours and the Dutch 10 hours.
• Weekly rest period: Discussion is centred on a 42hour average with a degree of flexibility so that the hours can be spread over two or three weeks.