Get updated on road law
6th April 1985
Page 6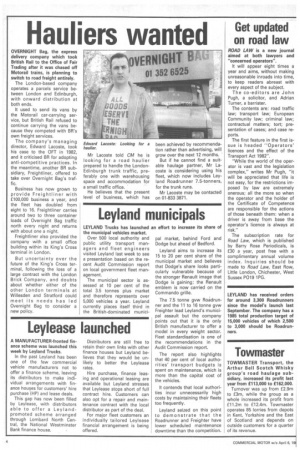 Page 6, 6th April 1985 —
Get updated on road law
Close
ROAD LAW is a new journal aimed at both lawyers and "concerned operators".
It will appear eight times a year and aims, without making unreasonable inroads into time, to keep readers abreast with every aspect of the subject.
The co-editors are John Pugh, a solicitor, and Adrian Turner, a barrister.
The contents are: road traffic law; transport law; European Community law; criminal law; contractual matters; tort; presentation of cases; and case reports.
The first feature in the first issue is headed "Operators' licences and the effect of the Transport Act 1982".
"While the world of the operator is vast and the legislation complex," writes Mr Pugh, "it will be appreciated that life is not easy, for the restrictions imposed by law are extremely onerous; all the more so when the operator and the holder of the Certificate of Competence are responsible for the actions of those beneath them: when a driver is away from base the operator's licence is always at risk."
The subscription rate for Road Law, which is published by Barry Rose Periodicals, is £.30 a year, post free with a complimentary annual volume index. Inquiries should be made to Road Law, East Row, Little London, Chichester, West Sussex P019 1PG.