Does LRT really want to know?
6th April 1985
Page 55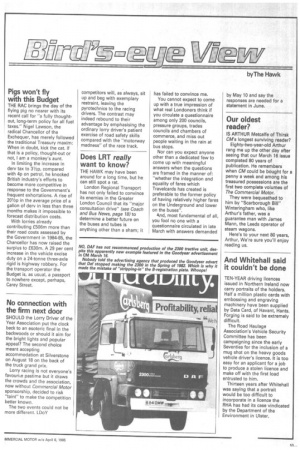 Page 55, 6th April 1985 —
Does LRT really want to know?
Close
THE HAWK may have been around for a long time, but he can still spot a rat.
London Regional Transport has not only failed to convince its enemies in the Greater London Council that its "major consultation drive" (see Coach and Bus News, page 18) to determine a better future on the buses and tubes is anything other than a sham; it has failed to convince me.
You cannot expect to come up with a true impression of what real Londoners think if you circulate a questionnaire among only 200 councils, pressure groups, trades councils and chambers of commerce, and miss out people waiting in the rain at bus stops.
Nor can you expect anyone other than a dedicated few to come up with meaningful answers when the questions are framed in the manner of: "whether the integration and equality of fares which Travelcards has created is preferable to the former policy of having relatively higher fares on the Underground and lower on the buses".
4nd, most fundamental of all, you fool no one with a questionnaire circulated in late March with answers demanded by May 10 and say the responses are needed for a statement in June.